Freshmen Student-Athletes Report
by Brent Harris • August 18, 2008

Share: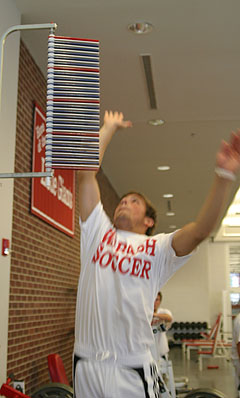 The first of a class of over 250 freshmen began reporting to the Wabash College campus over the weekend. Thirty soccer and 127 football players got the 2008-2009 school year underway by completing paperwork and testing for the upcoming fall sport season.
Players from as close as nearby Crawfordsville High School and as far away as Brooklyn, New York and San Francisco, California came to report for football practice. The countries of Canada, Scotland, Brazil, Mexico, and Bolivia will be represented by players on the Wabash soccer team in addition to 23 players from the United States. (Click here to view a photo album of the football and soccer teams' first days on campus.)
All members of the incoming freshmen class will begin orientation Saturday. Classes at Wabash begin August 28th.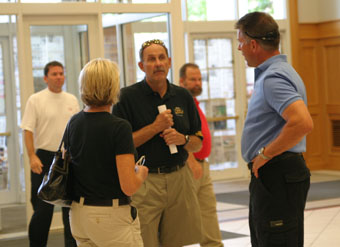 The Little Giant soccer team will open with an exhibition match against Hanover College at noon on Sunday, August 24 at Mud Hollow Field before officially starting the 2008 season with a home match on Saturday, August 30 at 1 p.m. against Holy Cross College. The 11th-ranked football team will go through testing and its first practice Tuesday before departing for Twin Lakes Camp for three days of workouts and meetings. The Little Giants open on September 13 at Denison University.
Photos - (top right) Freshman soccer player Josh Pedersen reaches for the highest point of his vertical leap testing. 
(Bottom left) Professor of English and Faculty Athletics Representative Tobey Herzog meets with Robert and Joann Holm before their son, John, checks in with the football coaches.