New Look Little Giants Go For Fourth Football Title
by Brent Harris • August 5, 2008

Share:
While some new faces will be in place for the Wabash College football program in 2008, the goal has not changed. The team is looking to win its fourth consecutive North Coast Athletic Conference title and earn its second consecutive berth in the NCAA Division III football playoffs.

Head Coach Erik Raeburn (left) begins his first season at the helm for the 11th-ranked Little Giants. He replaces Chris Creighton, who departed to take over the Drake University program. Raeburn brings a wealth of experience to Wabash after serving as the head coach at Coe College for eight seasons after a seven-year stint as an assistant at Mount Union College. He led Coe to its first NCAA playoff appearance while earning Iowa Intercollegiate Athletic Conference and Regional Coach of the Year honors in 2002.
The Little Giants will also try to repeat their success in the NCAA playoffs. Wabash advanced to the quarterfinals for the second time in six years before losing to the eventual national champion Warhawks from the University of Wisconsin-Whitewater. Earning a place in this year's 32-team field would mark the first back-to-back playoff appearances in Little Giant history.
DEFENSE
Two-time All-American and NCAC Defensive Player of the Year Adi Pynenberg will still be on the sidelines for the Little Giants, but only as an assistant coach. Six starters and 17 letterwinners do return, however, from the 2007 squad that tied the school record for 48 sacks and held opponents to 14 points a game during the regular season.
"I expect our defense to play fast," Raeburn said. "You will know that when we are playing fast, we should be playing solid football. If we have 11 players around the football and have good, sure tacklers, we can achieve some success."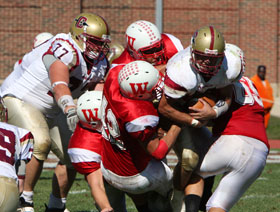 DEFENSIVE LINE
Raeburn will rely on two returning seniors up front on defense. Darryl Kennon (DE, 6-3, 258) and Jared Lange (DT, 6-1, 238) (right) each provide on the field experience and leadership. Lange is back for his fifth season, receiving a medical hardship after breaking his leg in the second week of the 2006 season. He returned last year to record 51 tackles, 17 tackles for losses, and 8 1/2 sacks. Kennon continued his assault on opposing players and the Wabash record book in 2007, tallying a team-high 14 sacks last year. He is sixth in career sacks with 24, four shy of setting the all-time record, and is fourth in career tackles for losses with 42 1/2.
Joshua Gangloff (SR, 6-3, 261) started 11 games at defensive tackle, making 43 total tackles along with eight tackles for losses and 1 1/2 sacks. Seth Tichenor (JR, 6-5, 254) finished with 18 tackles and three sacks in his nine appearances last year. Junior Matt Whyde (6-3, 233) saw action in eight games with two of his eight total tackles registering quarterback sacks. Junior Kenny Coggins (6-3, 210) transferred from Princeton University and could earn a spot at defensive end for the Little Giants, as well.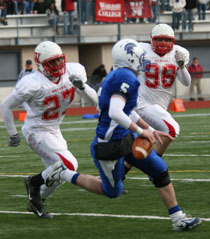 LINEBACKERS
Pynenberg leaves a big hole to fill in the middle of the Little Giants defense. Ready to step into that gap are senior Matt Kraft, junior Bryan Watson, and sophomore CJ Gum. Kraft (6-0, 210) (left) may move from an outside linebacker to the middle of the Wabash defense. His athleticism made him the third-leading tackler on last year's team with 86 stops. He added two interceptions, including a 25-yard pick and return for a touchdown. Kraft should become the 15th Wabash player to top the 200 career tackle mark, entering his final season with 172 total stops.
Watson (6-2, 224) played 12 games last year as a backup at inside linebacker and made 22 tackles. Gum (6-2, 230) saw action in two games before suffering a season-ending knee injury in a reserve contest. He proved to be one of the hardest hitters on defense in his short time with the team as a freshman, and should be ready to battle for a starting position as a sophomore.
If Kraft locks down an inside linebacker position, then senior Rich Lehmann and sophomore Dan Ryan Wood could take the outside spots. Lehmann (6-5, 216) started 12 games, finishing fifth in total tackles with 81. Wood (5-10, 170) made 22 tackles while playing in every game as a freshman, including a start against Denison and could also see action as a defensive back. Senior Brent Banach (6-0, 188) missed the last half of the regular season after suffering a knee injury against Earlham in his only start. He could also play at linebacker or defensive back after successfully rehabilitating the injury throughout the winter and spring. Sophomore James Pannell (6-2, 169) could see time at linebacker, as well. He tallied nine stops in eight games in 2007.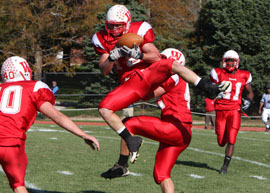 DEFENSIVE BACKS
Senior Chad Peterman (5-11, 202) (right) is the only returning starter in the secondary for Wabash. He led the team with six interceptions and was second with 90 total tackles as a free safety. Peterman suffered a broken ankle in the final playoff game at Wisconsin-Whitewater, giving backup Jake Martin (SO, 6-2, 186) some additional time on the field. Martin recorded 20 tackles and one forced fumble in 11 games. Addrian Frederick (JR, 5-11, 178) played in nine games and made 12 tackles. Chris Schweigel (JR, 6-4, 193) made the transition from wide receiver to cornerback, playing in 12 games with 21 tackles. Derrin Slack (JR, 6-2, 177), Charles Goodman (JR, 5-11, 194), and DJ Singfield (SO, 5-10, 176) could also work their way into the lineup.
OFFENSE
Eight starters and 15 letter winners are back for an offensive unit that finished in the top-25 in the nation in passing offense (284.6 yards per game) and passing efficiency (150.6 rating). Consistency and big plays will be the focal point for Raeburn's squad.
"You have to be consistent on offense," he said. "Players can't make mistakes, have mental breakdowns, and must take care of the football. You also need explosive plays on offense. It's hard to put together 12- to 15-play, 85-yard drives every time. More often you score on six- or eight-play drives with a big chunk of yards coming on one big play. We have to create those on offense and special teams, and prevent them on defense."
OFFENSIVE LINE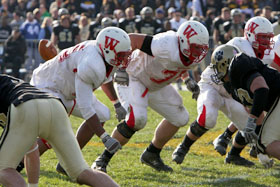 A group of veteran players return for the Little Giants in the trenches, led by senior center Tony Neymeiyer (5-11 243) and First Team All-NCAC senior right tackle Jeremy Morris (6-6, 302). Both players started every game on the offensive line in 2007. Skip Tokar (JR, 6-6, 310) also started all 13 games at right guard. Craig Morrison (JR, 6-3, 252) worked his way into the lineup after moving from defensive line to offense. He played in seven games, earning starts in the final five. Pat Long (SR, 6-3, 282) started four games in 2007, and Erik Shaver (SR, 6-5, 283) played in nine games with four starts at left guard. Evan Isaacs (JR, 6-3, 267) suffered a season-ending knee injury in the first preseason scrimmage game of 2007. He could also challenge for a starting position.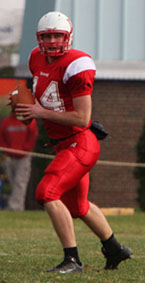 QUARTERBACK
The 2007 season started with Matt Hudson (JR, 6-6, 228) (right) third on the depth chart at quarterback. By the end of the year he had thrown for 2,769 yards and 25 touchdowns and earned First Team All-NCAC honors after replacing injured starter Dustin Huff. Hudson led the Little Giants to the NCAA playoffs and a third consecutive conference title with a perfect 7-0 league record while finishing 11th in the nation passing efficiency with a rating of 154.38. He is the only returning quarterback with any varsity experience heading into the 2008 campaign. Tyler Hernly (SO, 6-1, 180) took plenty of snaps in reserve games for the Little Giants in his first season, as did Josh Raspopovich (SO, 6-4, 177) and Josh Miracle (5-11, 175).
RUNNING BACK
Junior Evan Sobecki (5-10, 194) handled the bulk of the carries last season, rushing for 709 yards and four TDs, and should lead the ground attack this season. Sharing time in the backfield with Sobecki was Bobby Kimp (SR, 5-7, 161), who finished with 116 yards on 33 attempts. Junior Brock Graham (6-1, 192) ran for seven TDs and 80 yards in short yardage situations, but was primarily used a blocking back and pass receiver. He led the Little Giants with 69 receptions for a total of 607 yards and five TDs. Adam Pilli (SR, 5-10, 194) saw action in five games, carrying nine times for 28 yards.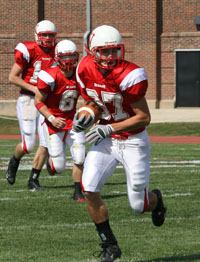 WIDE RECEIVER/TIGHT END
Fourteen different players caught a total of 294 passes last season for the Little Giants. Eight of those players return in 2008. In addition to Graham's 69 receptions, Andrew Rode (SR, 6-4, 179) (left) had 26 receptions in 12 games for 336 yards. Kody Lemond (SO, 5-11, 166), Wes Chamblee (SO, 5-11, 162), and Ryan Kerney (JR, 6-4, 203), who combined for six receptions for 91 yards and one score in 2007, will be part of the next wave of wide outs for Wabash. Tight end Scott Liska (SR, 6-6, 239) made 22 catches for 256 yards. Chad Sorenson (JR, 6-4, 235) served as Liska's backup, playing in ten games with four catches for 45 yards and one TD.
SPECIAL TEAMS
Senior Drew Oehler (5-11, 181) took over the extra point and field goal kicking duties in the seventh game of the season. He connected on 23 consecutive extra points and hit both field goal attempts during that stretch. He and Spencer Whitehead (SO, 6-3, 172) will share the kicking responsibilities this year. Whitehead took over on kickoffs for Oehler over the final three games of 2007, averaging 56.2 yards per kick. Schweigel was a punter in high school and was listed as the backup for the Little Giants last season, but did not have a punt attempt in a game.
Kick returner JT Moore (SR, 5-9, 163) averaged 21.5 yards per kick return and 8.6 yards per punt return last season. Kimp also spent time as a punt returner, averaging 10.9 yards per attempt.
SCHEDULE
Wabash will play a key NCAC game at Wittenberg on October 18, one of four conference road games (Denison, Kenyon, Hiram) on the 2008 schedule. The Little Giants play Wooster, Allegheny, and Oberlin at home in league competition. Wabash was picked to finish second in the league by the NCAC coaches and tied for first in voting by the media.
Wabash enters the first of a four-year scheduling agreement between the NCAC and University Athletic Association. The Little Giants will play the University of Chicago and at Washington University, St. Louis, this year. Wabash will try to regain the Monon Bell when the 115th Classic returns to Crawfordsville after last year's heartbreaking loss on a field goal on the final play of the game at DePauw.