Wabash Scores in College Guide
by Jim Amidon • July 29, 2008

Share: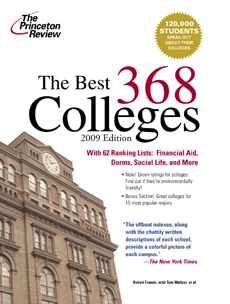 Wabash College is again ranked by The Princeton Review as one of "The Best 368 Colleges" in the New York-based education services company's annual college guidebook, which was released today.
In addition to a two-page profile of Wabash included in the guidebook, The Princeton Review gave Wabash a 95 rating for academics and a score of 90 for the quality of campus life. Topping the list, however, was Wabash's score of 99 in the financial aid rating.
Wabash also ranked in 11 different top-20 "students say" national rankings. The Princeton Review surveyed more than 125,000 college students across the country to develop the categorical rankings. Highlighting the top-20 categories are Wabash's number three rankings in "Most Accessible Professors," "Best Career/Job Placement Services," and "Jock School."
Wabash students gave high marks to professors and the classes they teach. In addition to the number three ranking for "Most Accessible Professors," Wabash also ranked fourth nationally in the "Best Classroom Experience" category and 19th in "Professors Get High Marks."
What sets these Princeton Review rankings apart from many college guidebooks is that they are formulated by students' answers to 80-question surveys done on-campus.
"We're pleased that our students continue to rank us very high in terms of the accessibility of our faculty and the experiences they have in the classroom," said Wabash President Patrick E. White. "It's that level of accessibility that creates such an engaging teaching and learning environment on the Wabash campus."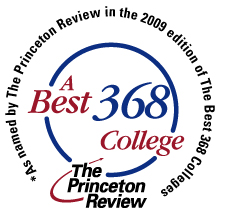 More than 40 percent of Wabash's 900 students are involved in intercollegiate athletics and approximately 80 percent of the students play intramural sports. Those stats are evident in The Princeton Review rankings. Wabash ranked third in the "Jock Schools" and "Best Athletic Facilities categories; fifth in "Everybody Plays Intramural Sports," and 14th in "Students Pack the Stadiums."
Administratively, Wabash got high rankings from the students in three categories: "Best Career/Job Placement Services" (third), "Students Happy With Financial Aid" (ninth), and "School Runs Like Butter" (11th).
"We're particularly pleased that our career and job placement services got such high rankings this year," said President White. "This clearly demonstrates the fine work of Scott Crawford and the staff of the Schroeder Center for Career Development, as well as the impact of Wabash alumni, who serve as career mentors and hosts for student internships.
"We chose schools for this book primarily for their outstanding academics," said Robert Franek, Vice President of Publishing for The Princeton Review. "We evaluated them based on institutional data we collect about the schools, feedback from students attending them, and our visits to schools over the years. We also consider the opinions of independent college counselors, students, and parents we hear from all year long."
Wabash's various rankings and ratings in The Princeton Review's "The Best 368 Colleges" guidebook:
Data Ratings
99 — Financial Aid Rating
95 — Academic Rating
90 — Quality of Life Rating
89 — Admissions Rating
"Students Say" Categorical Rankings
3 — Most Accessible Professors
3 — Best Career/Job Placement Services
3 — Jock Schools
3 — Best Athletic Facilities
4 — Best Classroom Experience
5 — Everyone Plays Intramural Sports
9 — Students Happy with Financial Aid
11 — School Runs Like Butter
14 — Students Pack the Stadiums
14 — Major Fraternity and Sorority Scene
19 — Professors Get High Marks