Walsh '98 Exerts 'Quiet Influence'
by Gary James '10 • July 24, 2008

Share:
One hears the term "human resources," or H.R., and the comical image of Toby Flenderson from the television show The Office comes to mind. A pathetically cautious enforcer of political correctness, he makes sure the company will not get sued by a disgruntled employee.
But in reality it is not Flenderson; it is more often a man like Jonathan Walsh '98.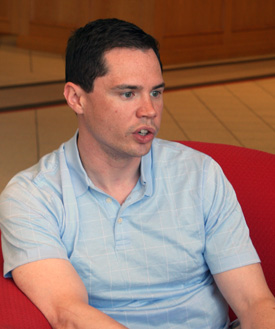 Aware of stereotypes about his career, Walsh, a lean, tan West coast executive, takes great pride in his position as First Vice President of Human Resources at Washington Mutual in San Francisco.
"I can tell you from just being in the profession, knowing people view us like Toby, that is not exactly how we work," said Walsh, originally from Gary, Indiana.
"But it's good to know that it's kind of a mirror to hold up to society as to how they view our function," he continued. "I get jokes from my friends, 'You're the H.R. guy.' Or, 'sorry, the H.R. guy is here; we shouldn't be talking about this.' And it's not how it works at all."
Instead, Walsh uses his expertise in industrial organizational psychology - the psychology of the work place – to help create an environment of respect and functionality for workers, including upper management. He oversees strategies to develop the company's talent pool as well as manage possible risks.
If there are professional qualities the company executives want to enhance, Walsh develops plans to acquire them. And if the company needs to make adjustments in personnel, he helps to organize the transition team.
Walsh's expertise was tested early in his career when, in 2001, Providian downsized. The number of employees working for the financial firm was reduced from 14,000 to 3,500. Walsh helped decide what facilities and processes would be maintained, streamlined, or phased out. But he paid special attention to the details of how the transition would be executed, with an understanding that the company's decisions would have a huge impact on the lives of thousands of people.
"I was really proud to be able to design a structure that did it in a way that retained people's respect, and dignity, and as humane as we could possibly make it with making tough business decisions," Walsh said. "There were times when we'd lay people off who actually at the end of it would thank us for how it went. That was a very odd experience."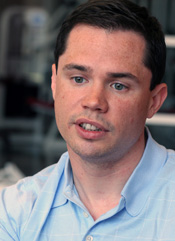 Walsh relishes his function in Human Resources. He does not want a high profile job with a lot of visibility. Yet, he still wants to feel he's having a positive impact on the company's operation.
"Human resources is more of a quiet influence on the business," he said. "I like to make a difference, and I think this is a good way to do it.
"At a bank you really have two things to work with - you have people and you have a lot money. And you have to figure out how to deploy the money in the best way possible. You'll hear a lot of businesses say that the people are the most important asset. We are right there."
The human resources executive said his concern for people and the way they fit into a business or larger enterprise comes from his understanding that virtually everyone has to work at some point in their lives.
"I think it's worthwhile to try to make [working for a company] the best you possibly can," Walsh said. "I currently work in banking. But it doesn't have to be banking. It could be working in a non-profit. It could be working in an academic setting. But it's all about the people – the right people in the right place doing the right work that can really help you either achieve your mission or allow your mission to totally fail."
Walsh, a Sigma Chi, learned about Wabash from a high school coach. He majored in Psychology at Wabash and was involved with football, Sphinx Club, and Alpha Phi Omega. While studying abroad, Walsh met a graduate student from Arizona who first introduced Walsh to industrial organizational psychology. The more he learned about the field, the more he liked it. He earned a Masters in Industrial Organizational Psychology from Roosevelt University in Chicago in 2001, while simultaneously consulting on work-related tests and assessments for National Computer Systems, an information services company. He left NCS in 2000 to work for Providian, which was later acquired by Washington Mutual.
Walsh sees his time at Wabash as positive and formative.
"I credit any success and any opportunities that I've had to Wabash," Walsh said. "I was always encouraged to do what you are impassioned about and find what really motivates you and do that. And everything else will figure itself out. I remember always thinking that this education would be the foundation that other things could be built off of. And that foundation has guided me the whole way, whether it be how to interact with people, how to think about certain problems that you encounter and problem solving and critically thinking through a situation not only from your own perspective but from all possible perspectives has really helped me in my career."