Raber '98 Mixes Things Up for High School Runners
by Patrick McAlister '10 • June 29, 2008

Share:
Not all Wabash men are successful on their first venture after college. Zach Raber '98 and Roger Busch '97, cross country teammates and good friends moved to Colorado Springs in 1999, to open a vitamin store.
"It didn't work out," said Raber.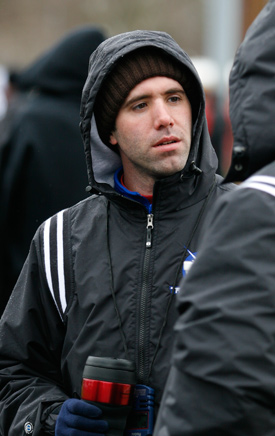 That early failure in business, however, helped their career trajectories. Busch is now the head cross country coach of a very successful Little Giant team, taking over for the legendary Rob Johnson. Raber is a history teacher at Carroll High School in Fort Wayne, and leads a strong high school program.
"I guess they come in [to the program] with high expectations," Raber said, "because the captains on our team teach them that this is what is expected and if you do the things that are expected you're going to get better. We joke around and say 'winning's not the only thing – but there's nothing more fun than winning.' Once they've tasted success it breeds itself."
'Winning' is something Carroll seems to do well. In 2007, Carroll's boys and girls – that's right, boys and girls - cross country teams finished sixth and third at State respectively. Each team was built on the backs of underclassmen that will be running for the high school in years to come.
Raber's training strategy is something unique to the cross country community.
"We take all the kids and based on times we setup groups," he said. "We don't separate by boys and girls, we separate by times. Usually the latter half of the boys meets well with the top half of the girls. That's a great dynamic because the boys don't want to be beat by the girls and the girls love it when they beat the boys in practice."
Raber said the impetus for training in such an atypical manner was not about revolutionizing the way one runs a cross country program, but about convenience. As head coach of a boys and girls cross country program with 40-60 students, it made sense to break down practices the way he did. Nevertheless, the response from the community has been positive.
"[Assistant] Coach Barnes and I spoke at a clinic this year and talked about putting the two groups together," he said, "and I had a number of female coaches come up and thank me for not separating the two because of gender differences. It's gotten great results for us."
Although Raber acknowledges this new system of training has paid dividends for the school's cross country program he still sees a difference in how he approaches coaching men and women.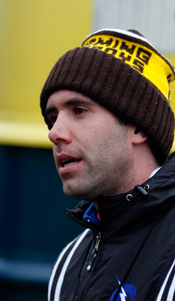 "Its harder to yell at girls," Raber said. "Psychologically, I think you need to take a little bit different of an approach. We can joke about how it's easier to yell at the guys but guys get yelled at more in life than girls do. I don't hold back on them – if I need to get more out of them I make sure they know that.
"Typically girls are willing to do more that you ask of them, whether that's in practice or in the classroom. Guys are more stubborn. I can push their buttons a bit more and get more out of them. For the girls often times if I do that then they'll go further away from the goal that we want."
Being a history teacher and coach was not what Raber had originally planned on doing.
"I truly got my teaching certificate at Wabash as a fallback," he said. "I never had the intention of teaching."
As fallback plans go, history was a good one for Raber, as he has a clear passion for the subject.
"My favorite part about history is the social aspect of history," he said. "I don't get to teach it a whole lot because of standards in the state. Primarily we teach government and military aspects of history. Even with great individuals in history to think they had a social side as well is interesting.
"When I was at Wabash we had an opportunity to look into those things, which is something you don't get to do in high school. That's a reason why some kids don't like history because you don't get a chance to get into all of that stuff. You get the surface and you're moving so fast. I teach 10,000 years of World History in one school year. We do what we can to keep them interested."
Keeping students interested is central to Raber's teaching philosophy. He adopts many of the hallmarks of Wabash education including lots of discussion and incorporation of other areas of study. He also makes sure his students know it is ok to not know one's life path while just high school students.
"Our society is starting to be driven more by what exactly you want to do when you get out [of college]," he said. "I don't think that is the way to go because nobody knows exactly what they want to do when they get out. I can't tell you the number of teachers who went to college and did that one year teacher certification because they decided they wanted to be a teacher then. I didn't have to do that. I was four years in, had that certification as a backup and its worked out great."
Like so many alumni, Raber's commitment to Wabash runs deep. Along with sending student runners from Carroll to Wabash and his friendship with Coach Busch, Raber's sister married his fraternity brother and college roommate, Dr. Ryan Holmes '99. His five-year-old son even has his eyes set on the College.
"He's already made a verbal commitment," Raber said with a laugh.
Photos by Chad Simpson '10