Smith '03 Doing Lawyer-Like Work in TV News
by Howard W. Hewitt • June 29, 2008

Share:
Ryan Smith '03 always thought he'd become a lawyer. But that career path veered when he joined the news staff of The Bachelor, Wabash College's student newspaper. The Ohio native took the LSATs and up until the weekend before his graduate school application was due he still thought law school was his future. Instead he applied to Columbia's graduate journalism program and now works for CBS News.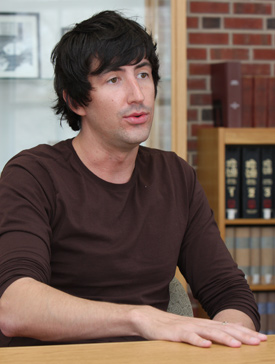 Smith works in planning and development for 48 Hours Mystery. The show usually focuses on complex criminal cases. Smith does all the leg work gathering facts, interviewing the people involved, and bringing that material to the show's producers to determine if it is developed into an episode.
"Even my senior year I was still planning on going to law school," Smith said. "Then somewhere inside me I realized my entire life at Wabash, at least in part, centered on The Bachelor and journalism. I thought maybe my talents and the things that came natural to me were where I should be spending the rest of my life."
His time as a writer and news editor fed his curiosity and developed his talents. "I knew that this was something I was pretty good at: writing a story, getting a story, knowing what was important. I had just never thought about making it my life."
National broadcast journalism can be notoriously difficult to find a first job. Smith went to CBS and was hired as a page for the David Letterman show. There he met lots of people and was asked to be a production assistant for the 2004 presidential election coverage. Working with the network's top news people netted him some interviews which led to the job at 48 Hours.
"Primarily what I work on is very complex legal cases, something that I was interested in from a very early age," Smith said, explaining his work. "What makes a compelling story? There has to be compelling characters or very compelling hooks to the storyline."
One of Smith's biggest daily challenges is getting people to talk. "It's very rough for the people involved. It's usually the most serious event in their life. It may be, in most cases, the most serious thing that's ever happened to them. You get them to open up and make a connection to do the reporting.
"I don't know if it was Wabash or my natural instincts, but I am a talker. But the most important skill I've learned during my time at 48 Hours is to know how to listen and to listen without passing judgment. When people know that you are listening to them and you are not judging, they're much more apt to tell you what it is they have on their mind. It's much more about building relationships and trust than it is about anything else."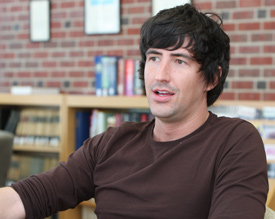 That trust building often means repeated phone calls and visits before a person will talk about that terrible experience. Smith has to move fast when he gets a good lead on a case because of the competition; still the cases can take months and years to be resolved.
"It's heavily dependent on what's happening in the judicial system," he said of the timing. "From the time the story is located until it airs can be years, months, or weeks. The production time is usually four or five months."
Smith calls his experience with 48 hours "an opportunity to learn at a grad school that is unlike any other"
He works with police, prosecutors, defense lawyers, and the principals of each case - something he calls more compelling than "the actual legal maneuverings that are 99 percent of what lawyers do."
He's not sure what comes next, but he knows there is change coming in the world of electronic media. "We are at the edge of something and my bosses know that and they have been really working on certain web episodes and that sort of stuff. What's coming up next in the industry? What's going to happen? How are people going to watch television or whatever else they're going to do is beyond me right now. But it is certainly interesting to me."
Smith still has a lot to learn about the business he's in and is thankful for the opportunities he's had with CBS News. "I want to do whatever I can to learn from those around me and to really master what it is everybody is doing," he said. "At some level that will mean less talking and more listening, but then using those lessons and using that mastery for whatever is coming next."
He's grateful for the opportunities at CBS and the resiliency he learned at Wabash College.
"Wabash encouraged me to write well, to communicate well and I think for me, in particular, foster resilience. The quality of being resilient has been something that has really shown through for me. There is something to be said for the self confidence boost that was fostered for me by this College."
Smith credits the resilience he learned for help through the down moments, for the persistence to chase the difficult and drawn-out stories.
"There's always competition. It gives you the realization that you are in the real world. This is not just a fairytale or anything, these are real people and real cases," he said of his work. "This is very high production value journalism that really can cut through a lot of the nonsense and get to the heart of the emotions of what these people are feeling. It's the ability to showcase the importance of certain cases as well as the social elements and mix it with the interest in law enforcement.
"I thought I'd be a lawyer. But everybody at Wabash, including a lot of alums, was saying maybe this would be a better route. I took it and I'm very, very lucky and grateful."