Wabash Wrestling Camp One of a Kind
by Matt Wilson
The Journal Review • June 27, 2008

Share: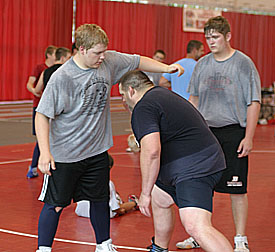 Most college wrestling camps are instructed by former or current college coaches. Brian Anderson has no problem with that idea, but wanted to do something different than other colleges when he started Wabash's team camp two years ago. Instead of bringing in college coaches, Anderson thought it would be better if he brought in high-profile wrestlers.
Starting in 2006, Anderson brought in Olympic qualifiers. He brought in two Olympic wrestlers each in 2006 and 2007, then continued that trend this year when both Olympic gold medalists Rulon Gardner and Brandon Slay were instructing the camp of around 170 wrestlers at Knowling Fieldhouse.
Wabash wrestlers Rob Arnett and Cody Johnson worked with Gardner and Slay, respectively. The wrestlers were divided into two groups and there was a morning and afternoon session. Gardner would work with one of the groups in the morning, then would work with the other in the afternoon.
Gardner won the gold medal in Greco Roman in the 2000 Summer Olympics, while Slay was a freestyle gold medalist the same year. Gardner, who lives in Salt Lake City, Utah, was scheduled to come into Crawfordsville Wednesday night but because of flight delays didn't arrive until 5 a.m. Thursday.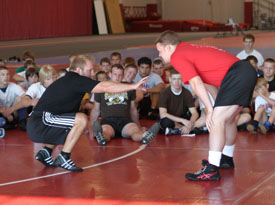 Anderson also has had Olympians Steven Abas, Eric Guerrero, Sammy Henson and Joe Williams at his camps. Abas was a 2004 silver medalist. Henson was a two-time Olympian, winning the silver medal in 2000. Williams also was a two-time Olympian.
"I try and get different people in here and give the campers something new," Anderson said. "A lot of the times you will see college coaches at the college camps and having these kids out here with Olympians just gives them a different experience. It's one thing to work with an NCAA Champion, but for wrestlers these ages it's hard for them to fathom they are getting instruction from a gold medalist."
Slay, who graduated from the University of Pennsylvania in 1998 and was a two-time University National Champion, two time NCAA All-American and four-time NCAA qualifier, likes what Anderson is doing with his camps.
"I have never been to Crawfordsville and have never been to Wabash College, and I'm always excited about going to new places I have never been," Slay said. "This is a special camp. A lot of these camps are just concentrated on bringing in national champions all the time, and they don't do that here."
The wrestlers, who ranged in ages from 8 on up to high school, on Tuesday and Wednesday also received instruction from Wabash graduate Chris Healy, a three-time national qualifier and two-time All-American.
Part of the week-long camp dealt with instruction. Gardner also would give motivational speeches to the wrestlers, telling them what the sport has done for him.
It was a week most of the campers will never forget. How often is it that two Olympic gold medalists are at the same camp on the same day giving instructions? Not only were they both there instructing, they were also showing demonstrations on how to do certain moves, then when the campers broke into partners, they walked around to each individual group to make sure they were doing the moves properly.
Crawfordsville coach Chris Ervin (Wabash Class of 1991) brought nine of his wrestlers to the camp and was taking notes as Gardner and Slay went through each of their demonstrations.
When the campers were with Slay, they learned no new fancy moves or tricks. Instead, he broke the sport down to its basics, reiterating what most of the wrestlers' coaches already told them. This time, however, that information was coming from an Olympic gold medalist.
Slay, who lives in Dallas, said there are five basics keys to wrestling: keeping your head up, back straight, hips in, staying off your knees, and keeping pressure on your opponent.
Slay and Gardner have both retired from wrestling, but continue to find ways to stay involved in the sport. Thursday, they did their part in keeping youth interested in the sport they have become passionate about.
Matt Wilson is the assistant sports editor at The Journal Review.
Photos - (top right) Rulon Gardner shows two campers a new wrestling move.
(Bottom left) Brandon Slay explains the importance of watching the trunk of the opponent during a wrestling match.