Wabash Students Help in Flood Cleanup
by Howard W. Hewitt • June 17, 2008

Share:
MARTINSVILLE, Ind. – Helping a Hoosier neighbor is living humanely on the most basic level. More than 25 Wabash men, staff and a faculty member traveled Tuesday to the hard-hit Martinsville area. The men helped a neighborhood that was submerged in nearly three feet of flood water a week ago clean up the mess.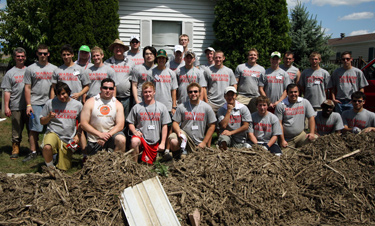 The Wabash men spent most of Tuesday removing cornhusks and debris from a trailer park on Martinsville's southeast side. Local emergency management officials have coordinated volunteer labor around the city while the Federal Emergency Management Agency does the heavy lifting. The Red Cross and Salvation Army are also set up at the fairgrounds providing services.
The Wabash group cleaned an area of nearly 100 trailers, many of which took on water or had water rise to floor level during last week's rainfall which reached 9-10 inches in southern Morgan County.
Martinsville had 1,700 homes damaged and more than 150 destroyed according to media reports.
For the Wabash men, it was a big dose of reality. Many had never seen flood damage before. See student comments below. Crawfordsville Journal Review reporter Frank Phillips also accompanied the group. He talked to several of the students and many of the residents.
Many residents came out to offer a thank you, cookies, water, soda, and even hugs for everyone.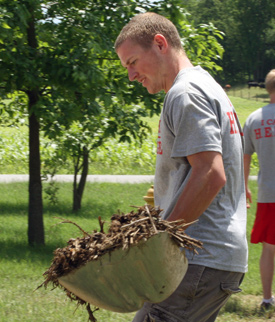 The trip was initiated by leaders of the Present Indiana Program (PIP). The summer internship program pays students to research and prepare presentations on interesting historical and cultural aspects of the Hoosier state. The internship is made possible by Lilly Endowment Inc.
The group went to Bridgeton to help restore the covered bridge destroyed by arson two years ago and decided to lend a hand to Hoosiers battling flood cleanup this year. An invitation was extended to students across campus to join in.
"I had been flooded in my house in Bloomington for most of the weekend that we had all the rain. But the damage that was in Martinsville was a huge surprise. I never would have expected the damage to be as devastating as it was. Helping the people that live in the damaged areas gave us a chance to help some people really in need of it. I am glad that I went to help today. We may have only made a small dent in the recovery, but it's nice to know that we at least helped out a little." – Alex Moseman '11
"The work we did today was important. This trip shows that Wabash men are quick to answer a call for help." – David Haggard '10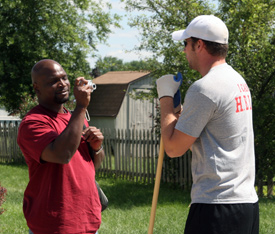 "I was very happy to have the chance to go help the flood victims in Martinsville today. I haven't always jumped at the opportunity in the past to do my share of community service, but after seeing the way my fellow Hoosiers were affected, I felt it necessary to do my part to help. The effects of the flood were devastating, and viewing the damage two weeks after the initial storms likely did not do the destruction justice. I was very impressed with my fellow Wabash men who also attended. We all worked hard and accomplished much while down there. Overall, it was a very successful trip, and all of us should take part in something like this whenever we get the chance." – Matt Hudson '10
"I have never seen so many dead corn husks … lodged in the undercarriage of cars and under the homes of every resident of Lavcianan Court. We spent the day cleaning this small residential area of Martinsville raking the heavy wet corn husks along with the dry husks and cobs that remind me of Halloween and the fall. This also brings to the realization that so many fields and crops have been completely destroyed by the floods of the past few weeks. As much as I hate physical labor, I really enjoyed being able to help so many people in such a sort amount of time, whether it was through raking husks, moving ruined furniture from destroyed homes, or just listening to the residents' stories from the past couple of weeks." – Joel Patterson '09
"Even though all of the flood water had receded by today, the amount of debris left by the water was surreal. We spent several grueling, yet satisfying hours raking, wheel-barreling, and moving large chucks of debris and pieces of destroyed insulation to the street in an attempt to aid the residents of the community any possible way that we could. Some residents of the community had task for us to do while we were there and we more than happily obliged. We were offered cookies and soda at the end of the day, but the most rewarding experience was having one of the residents come up to each of us and give us a hug and a genuine "thank you." – Kyle Frederick '10
"It seems unreal that flooding could affect a town so close to my home in Plainfield. It just doesn't seem like something that residents of Central Indiana need to worry about. So it was a bit shocking to see homes that had been badly damaged by flooding. We spent the day picking up debris around the houses. It was mostly corn stalks that had been swept away from surrounding fields by water. The residents of Martinsville were very appreciative. One woman even gave us water and cookies. Their kindness made the work day go easier and inspired us to work harder to help them out. Hopefully our work made their lives a little easier, and their lives will be back to normal soon." – Mitch Brown '10
In photos: Upper left, a shot of all those who participated in the cleanup. At right, Jacob Castilow '10 hauls a shovel of cornhusks to the curb. Lower left, Matt Hudson '10 talks with a Martinsville newspaper reporter.