Future Little Giants Get An Early Start
by Brent Harris • June 10, 2008

Share: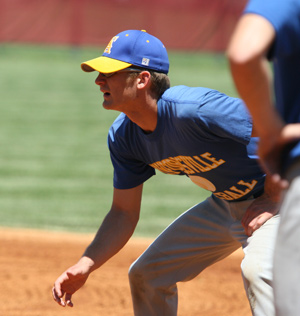 Future Wabash College freshmen Blake Harris and Andrew Swart got a head start on the rest of their incoming class Tuesday afternoon. The two members of the Crawfordsville High School baseball team joined the rest of their team in practice at Wabash's Mud Hollow Field in preparation for the Athenians' Saturday appearance in the state high school baseball 3A championship game.
The Athenians defeated West Vigo 3-1 in the first game of the Indiana High School Athletics Association semistate Saturday in Jasper before earning a berth in this Saturday's title contest with a 10-0 win over Greensburg. Harris' RBI double in sixth inning of the game against West Vigo proved to be the game-winner. The CHS left fielder is proud of what his team has accomplished as a group this year.
"We have all worked together," Harris said. "This is a special way to end your high school career. It's a great way to go out. Every team in the state sets this as their goal, but so few get a chance to try and accomplish it."
Harris plans to trade in his baseball glove for a basketball uniform when he heads to Wabash in the fall. The 5-10, 161-pound guard averaged 11.2 points and three assists a game for Crawfordsville this season. 
"It's a little different realizing this is where I will be next year," Harris added. "But it already feels like home. The academics are so strong here, so I'm excited about the education I'll receive. And Coach (Mac) Petty is a great coach. I'm excited to be able to play for him at Wabash."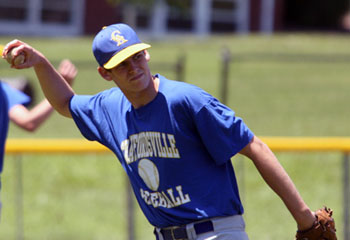 Swart, a winner of 40 games as pitcher for Crawfordsville over his high school career, spent some time Tuesday working on the same mound he'll pitch from in a Wabash uniform next season.
"I've played here at Mud Hollow before on summer league teams, but it's exciting to think about being here as a Wabash player.
"Wabash just felt right to me. I went on other college visits and they were good visits. They just didn't feel the same as my experience at Wabash and the things I learned about the school and the baseball program from (Wabash) Coach (Cory) Stevens during the recruiting period."
John Froedge, the head coach and long-time architect of Crawfordsville's successful baseball program, told his team they would not just be representing their team during their trip to state finals at Victory Field in Indianapolis this coming weekend.
"After we beat Greensburg Saturday I told the team they would be representing the entire Crawfordsville community this weekend, and Wabash is big part of that community," Froedge said. "I thought it was important to get some practice time on a field that provides some similar dimensions to Victory Field. Mud Hollow has a bigger outfield than our diamond at the high school, and we still have a lot of water on the field due to the recent weather. 
"Coach Stevens and his staff welcomed the opportunity to share the field with us. We've had a lot folks on campus stop out to watch us practice and wish us luck. It's been fun to come over and share this with Wabash."
Swart and Harris won't be the only future Little Giants playing in the 3A championship game Saturday. Dan Ranschaert drove in the game-winning run in extra innings to send Mishawaka Marian to finals to play the Athenians Saturday. Ranschaert, who also hit a home run in the Knights' 7-6 win over Yorktown, will attend Wabash in the fall and plans to play baseball for the Little Giants, as well. 
Crawfordsville and Mishawaka Marian play at 4 p.m. Saturday afternoon at Victory Field in Indianapolis.
Photos - (top right) Blake Harris works on a base running drill during Tuesday's practice.
(Bottom left) Andrew Swart tosses the ball during warmups at Mud Hollow Field Tuesday.