Chapel Sing Stirs Special Wabash Memories
by Kim Johnson • June 7, 2008

Share:
Thunderstorms forced Chapel Sing onto the "steps" of Chadwick Court as generations of Wabash men relived the rite of passage that once stood between their boyhood and becoming a true Wabash Man. See photo album here and here.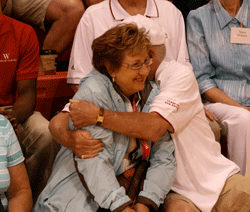 Each class took its turn in the spotlight singing, humming, and harmonizing its way through the two verses of "Old Wabash," some with arms linked or a class battle cry, others waving money in hopes of bribing the judges.
Their voices outlasted the storms and finally all the alumni, honorary alumni, current students, and a few friends of the College gathered together as one band of Wabash brothers (and a few sisters) to sing the beloved tune.
Ron Litterst '58 was in the Glee Club at Wabash, and had sung the song many times before. Still he said, "I had to practice all the way over (from Illinois)." This was his first time to attend a reunion at Wabash. He is part of this year's 50th reunion class.
Wabash College Athletic Director Tom Bambrey '68 couldn't be shaken off tune by the distractions Sphinx Club member Nate Powell '09 tried to use. "He's a Sigma Chi. I'm a Sigma Chi," Powell said. "I had to do it. As for the rest of them, a lot them would be in the Chapel right now."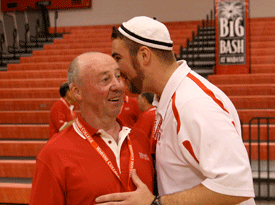 Chris Thompson '83 returned to campus this weekend for the first time since graduation. "We drove through 15 years ago but did not stop. A lot has changed, especially the buildings."
Although he thought he only did "okay" during Chapel Sing his first time back, his wife Jolene said, "He did great."
Even though Chapel Sing was not in its usual spot, the voices of Big Bash 2008 still rang loud and proud.
Photo above: Ron Litterst '58 hugs his wife Lois after his class completes Chapel Sing.
Photo right: Nate Powell '09 talks with Tom Bambrey '68 after he tries to throw him off tune during Chapel Sing.