Know Indiana Grants Help Crawfordsville Community
by Chris Barsotti, Journal Review • June 5, 2008

Share:
Wabash College looks for ways to keep its students occupied, even when school isn't in session.

In conjunction with the Lilly Endowment Quality of Life in Indiana Grant, Wabash helps students find internships through the Know Indiana portion of the grant which aims at helping students engage in academic studies of Indiana culture, heritage and people.
"This program is a really great experience," said Laura Conners, the Quality of Life in Indiana Grant facilitator. "It helps them learn professional skills and the full range of how a business works as well as being a community builder."
Seven students were placed at different non-profit cultural and governmental agencies including three students working here in Crawfordsville.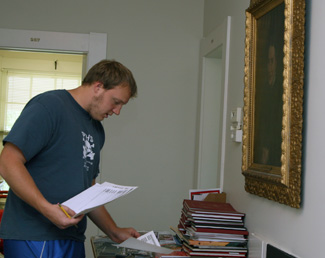 Alex Thompson, a senior majoring in philosophy with a Spanish minor, is working for the General Lew Wallace Study and Museum, Jamie Blue is working with the Sugar Creek Players Club at Vanity Theater and Mitch Brown is working at the Wabash College Ramsay Archives. Read Mitch Brown's blog entry about his internship here.
Thompson said his main duties for his time at the museum will be marketing and promotions during the summer. He also will help with publicizing the Taste of Montgomery County. He is also going to be helping with the Lew Wallace Youth Academy which takes place the second week in July.
"He is going to be a big help to us throughout the summer just because it is an extra set of hands and another person to help lead tours," associate director Amanda Wesselmann said. "When the Academy comes up in July he is going to be helping lead different sessions and will be helping out with the kids."
Jamie Blue, a junior majoring in Psychology and minoring in history and music, said he got his internship by a mere coincidence. "I was at an international dinner at Wabash and met Mike Swift (treasurer of Sugar Creek Players) and he suggested the opportunity. I thought it was worth a shot," he said. "It is really great to be working with the two musicals they are performing this summer."
Blue said he has been doing inventory of props as well as marketing for the current play, Cinderella. "This has been a huge help in getting to know more about downtown Crawfordsville," he said. "I would really recommend the program to other students because it has the possibility of opening many doors for them once their college careers are over."
Later this summer, Blue said he will be learning business aspects of the theater.
Brown majors in modern languages and classics and actually came up with the idea of his internship based on his time spent last year in the Present Indiana project.
"Mitch did a research project last summer on the history of the Brown County Art Colony and really became passionate about the subject," Conners said. "He approached us about the possibility of his current internship at the Ramsay Archives and now he is a historic arts intern."
Brown will be responsible for reconciling the inventory of the art works on campus and he will also conduct site inventories of the art in each campus building to create an accurate inventory in terms of location and condition.
In photo: Brown takes notes on a painting in Kane House.