Wilkins Helps Rescue Drowning Man
by Howard Hewitt • May 19, 2008

Share:
Mark Wieneke, a 21-year-old Lafayette man, could not have been luckier Saturday. Wabash Assistant Professor of Art Kristen Wilkins and her partner Jaysen Harris happened to be nearby at Fort Ouiatenon when Wieneke was struggling for his life in the rushing waters of the Wabash River.
But Wieneke's luck wasn't just that someone was nearby who could help, both Wilkins and Harris had swimming in their backgrounds. Wilkins was a certified lifeguard as recently as 2004. Harris was a former water polo player.
Wieneke, 21, had been fishing with a friend in the late afternoon near the historic fort. The boat broke free from its dock and the two men floated downstream. Unable to control the small boat, they jumped into the water. Wieneke's friend made it safely to shore, but he did not.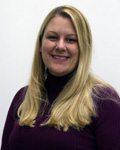 It was about that time Wilkins and Harris arrived at the park for a social outing and noticed an empty boat floating downstream. Within moments they heard cries for help prompting Harris to enter the swift moving Wabash. He got to Wieneke but had to reach down into the water to pull him up. The undercurrents were pulling him and the victim down.
"Then it appeared that Jaysen was losing his grip on the guy so I jumped in too," Wilkins explained. "I noticed there were some low tree branches and we grabbed a hold of those."
Wilkins then took the man from Harris and flipped him onto his back against her chest to keep him afloat. He was semi-conscious initially, but slowly regaining his senses.
A small crowd of spectators gathered near the shore some 12 feet away, Wilkins said. She urged them to look for rope and call police. Eventually someone found a life preserver that the couple managed to get onto Wieneke. They waited about 15 minutes in the water for emergency help to arrive.
"The river was really rushing, deep and cold," Wilkins said Monday. "It felt like there were down currents which really surprised me."
Wilkins was a high school swimmer growing up in Glendora, California, and described herself as someone who often finds herself in similar situations. "I'm one of those people who tend to crawl inside wrecked cars," she said laughing.
She had been near accidents before but never anything quite like Saturday's incident. Wilkins was later told that the river was 12 feet deep at the shore, two feet above flood stage.
A Tippecanoe County Sheriff's Deputy told the Lafayette Journal Courier that Wieneke would have drowned had it not been for the couple's efforts.