Bambrey Named AD, Raters Becomes Dean of Students
• May 14, 2008

Share:
Wabash College President Patrick E. White has named longtime Dean of Students Thomas E. Bambrey Director of Athletics and Michael P. Raters, currently Associate Dean of Students, has been promoted to Dean of Students at the 175 year-old liberal arts college. Bambrey replaces Vernon Mummert, who had served as director of athletics since 1998.
"I'm very pleased to announce these moves," said President White. "Tom Bambrey's vast experience and leadership as an administrator will serve us well in the Athletics Department, particularly as we welcome a number of new coaches to that department. At the same time, Mike Raters has a proven record of increasing responsibility and leadership at Wabash, and it's clear to me that he has the respect of the Wabash students, faculty, and staff."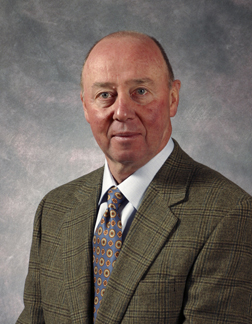 Bambrey, a 1968 graduate of Wabash, becomes only Wabash's 17th Director of Athletics at a college that began intercollegiate competition in 1866.
"I'm very happy to have served 11 years as Dean of Students at Wabash," said Bambrey. "I'm looking forward to continuing my service to the College as Director of Athletics; it's an exciting new opportunity for me."
A native of Pennsylvania, Bambrey was a three-year letterman for Coach J. Owen Huntsman's track and field team when he was an undergraduate. After teaching and coaching at Southmoreland High School in Western Pennsylvania, Bambrey earned a graduate fellowship at the University of Denver, where he earned his master's degree and Ph.D. in English Literature.
Bambrey was a professor and administrator at the University of Denver from 1976 through 1992. From 1984 through 1989 he served as Associate Dean of the college at Denver, and from 1989 through 1992 he served as Dean of Student Life and Director of the Honors Program. Bambrey left Denver in 1993 to become Dean of Student Life and Co-Curricular Education at St. Lawrence University in New York, where he worked until his appointment as Dean of Students at Wabash College in 1997.
In addition to his responsibilities administrating the residential and student life staffs, Bambrey has also supervised the Athletics Department in recent years.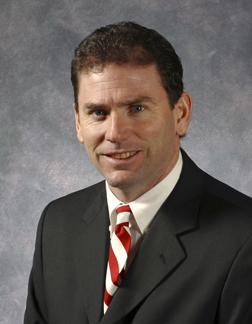 Raters is a 1985 graduate of Wabash who earned a master's degree from Butler University. As an undergraduate at Wabash, Raters was a member of Tau Kappa Epsilon fraternity and was a four-year letterman on the baseball team. He becomes the sixth Dean of Students in Wabash College history.
"I am honored, humbled, and excited about this great opportunity," said Raters. "I'm honored that President White thinks highly enough of my work to promote me to this position. I am humbled to follow in the footsteps of Dean Bambrey. As an alumnus, I'm aware of the visible role the Dean of Students plays in helping shape the experiences of Wabash men during their time on campus. And I'm excited about furthering the effort to maintain the viability of Wabash's Gentleman's Rule in a difficult world."
Before returning to Wabash as Associate Dean of Students in 2004, Raters spent 17 years as a teacher and coach at Franklin Central High School since 1987. At Franklin Central, Raters taught American Government, U.S. History, and World History, while supervising 12 student teachers. He was the 2003 Center for Congress "Outstanding Teacher;" received the Franklin Township Education Foundation Grant in 2001; and was the 2000 Franklin College Supervising Teacher of the Year. He was also a faculty sponsor of Students Against Destructive Decisions and the Senior Government Class Community Service Projects Coordinator, in addition to sponsoring a range of student clubs, groups, and organizations.
Raters also served Franklin Central as varsity baseball coach (1995-99), varsity tennis coach (1988-99), and varsity girls golf coach (2000-2004).
As Associate Dean at Wabash, he had principal responsibilities for all student housing at Wabash, and developed Wabash's Housing Education and Leadership Program (HELP), which is designed to train Wabash undergraduates for positions of leadership on campus. Raters also has experience teaching and advising Wabash's Teacher Education students, and has taught a Freshman Tutorial at Wabash.
"I want to thank Vernon Mummert for his years of service." said White. During Mummert's tenure the College moved from the Heartland College Athletic Conference into the North Coast Athletic Conference in December 1998, one of the most competitive and prestigious NCAA Division III conferences in the country. During that time, the College also renovated and constructed the 170,000 square-foot Allen Athletics and Recreation Center.