Brigance Lecturer Discusses Stereotypes
by Bandon Stewart '08 • April 3, 2008

Share:
This year's Brigance Forum lecturer was Dr. Edward Schiappa, the chair of the Communications Studies Department at the University of Minnesota. A noted scholar in his field, having published five books and authored many journal articles, it was revealed during Wednesday night's public lecture that he has a Wabash connection, having served as a dissertation advisor to Wabash's own Dr. David Timmerman.
The title of his lecture was "Rethinking Criticism of Stereotypes and Representations in Popular Culture." At the outset, he attempted to give a working definition of "stereotypes."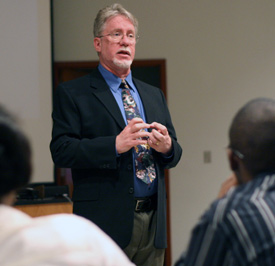 Although the lecture covered a lot of material, the basic premise of Dr. Schiappa's lecture was that popular culture critics are deserving of the same sort of harsh criticism they extend to media. By way of example, he explained that many culture critics have analyzed works which are often otherwise well received very harshly for either promoting old stereotypes or caricaturing their targets by their exaggeration of anti-stereotypical characteristics.
For example, Schiappa pointed to the Disney cartoon "Kim Possible" which features a strong heroine protagonist whose physical and intellectual prowess serve her well in her fight against evil. She is accompanied by a dorky male sidekick who more often than not causes more trouble than he corrects. Although the cartoon does not promote the stereotype of physically weak or docile women, her strengths were perceived by some critics to be over exaggerations. "Some have criticized the cartoon as sexist," Schiappa explained, "for its portrayal of men as only 'nerds' and 'jerks'."
This criticism extended to other shows like Murphy Brown where critics derided the female main character of the same name as "too butch" and "a man in women's dress." Even the iconic Cosby Show was impugned by some scholars as promoting a view of minority affluence and success which could undercut public support for affirmative action.
The main assertion he made was that too many critics hold media to an "impossible standard" of "representational correctness" or an ideal representation of people. Schiappa suggested instead that more weight should be given to the impact the medium has on its audience. He said that what many critics of popular culture failed to recognize was the effects those shows had on perceptions people had about those groups. While some scholars may deride Murphy Brown for its portrayal's of the executive women or criticize the development of the homosexual characters in the television show Will and Grace, they should not overlook the improved perceptions these shows of women and homosexuals these shows fostered in the viewing public.
He was quite clear that he did not see "a differentiated category as the same as a stereotype." What he meant, he went on to say, was that as people interacted more with representatives of groups for which they hold prejudices, these prejudices decrease as a result of gaining a thicker and more complex perception of that group. "Prejudice," he went on, "decreases as understanding becomes more sophisticated."
The Brigance Forum Lecture is an annual lecture series held to honor the memory of the late William Brigance, a Wabash College professor for almost four decades and major figure in the history of the Speech Association of America. Through his long tenure at the College, his scholarship and leadership in the field of Rhetoric, and through the publication of his many textbooks, Brigance taught generations of scholars about his discipline.
According to Wabash Professor of Rhetoric, Dr. David Timmerman, the lecture is "a way to promote and honor the rhetorical traditional at Wabash College.
From lectures on ancient Greek oratory to explorations of contemporary issues, this lectureship spans the range of scholarship in our field." The establishment and continued endowment of this annual lecture series was a way that the Brigance family and the many generations of his students could honor his memory and prolong his service to his craft.
Photos by Clayton Craig '08.