The Bachelor Wins 22 ICPA Honors
by Patrick McAlister '10 • March 31, 2008

Share:
In the middle of celebrating The Bachelor's 100th year, the paper has been honored with the most awards in its history.
Six staff members and Advisor Howard Hewitt attended the 50th Annual Indiana Collegiate Press Association (ICPA) Convention Saturday, a gathering of college media organizations where top notch publications receive awards in layout, photography, news, sports, opinion, features and a myriad of other categories.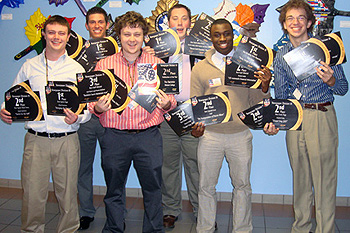 The Bachelor took home a total of 22 awards with 8 first places. It also nearly won Publication of the Year honors, only being edged in its division by 2 points. Last year was the first time in several years that the staff entered the competition, so doing as well as it did came as a pleasant surprise.
"What a great day for the Bachelor staff," Hewitt said. "Last year we won nine awards after not participating for a couple of years and then this year we come within two points of being named Publication of the Year. The eight first places and 22 total awards reflect, not just on those who won, but the entire staff for the serious-minded way they have approached their participation.
"I just could not be prouder of the progress the Bachelor has made the past few years."
Positive feedback abounded for the staff as the judges recognized the hard work and raw talent of a small volunteer staff with no traditional collegiate journalism training.
The judges chose the 2007 Back to School issue as the Best Special Issue and Best Overall Design, stating that it was a "tremendous resource for students" as it was "chock full of information on issues, people to know and new instructors."
They made special note of sophomore Sports Editor Chuck Summers' sports page for the Back to School issue, stating that it looked "professionally designed, from the cutout photo to the 2007 Little Giant football schedule..." They went even further stating that it was "Outstanding work that would be honored with an award in any division of competition."
The staff also took home awards for news, opinion, features and sports writing. It noted that sophomore Chad Simpson's first prize winning opinion column "The problem with gay blood" noting that it was an "Uncompromising look at discrimination." Gary James' Best Breaking News Reporting on the Venis/Clerget election was said to be a "Timely account of an unusual election." Senior Editor in Chief Patrick Smith's winning In-Depth News Story about the faculty survey was considered an "Impressive job obtaining a document the administration didn't intend to release."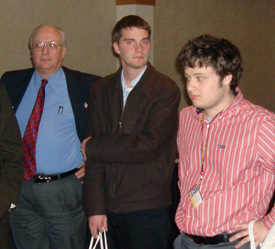 In addition to winning numerous awards as a publication, sophomore Patrick McAlister was elected by the convention as Vice President for Small Newspapers and will help plan future ICPA ventures.
Editor Patrick Smith noted that in spite of having just a small staff with no formal journalism training, the Bachelor has found a way to produce a critically acclaimed and informative product for the Wabash community – a testament to the College's liberal arts education.
"One has to remember that Wabash doesn't even really have a single class in journalism," Smith said. "It is really, keeping that in mind, a testament to the Bachelor and the sorts of fellows who work for the paper to receive these awards. Our rapid ascent in the standings shows, really, that the quality is there in the paper. The fellows, with neither course credit nor any substantial financial incentives, take the Bachelor very seriously, and our peers have recognized that.
"In a way, it reflects back on the College and the 100-year tradition of the Bachelor. We've been doing very well for ourselves since 1908, and these awards prove that we're going to keep doing so for some time to come. It just goes to show, finally, that the sort of education we receive at Wabash prepares us to excel even in areas that we don't teach here."
"I just could not be prouder of the progress the Bachelor has made the past few years.
In photos: Bachelor staffers show off all 22 awards immediately following the luncheon. From left: Sports Editor Chuck Summersm News Editor Rob Fenoglio, Stuff Editor Patrick McAlister, Editor Patrick Smith, Reporter Gary James, Photographer Chad Simpson. Lower right: McAlister meets with newly elected board members and advisors.