Film Brings Diverse Reaction From Faculty, Students
by Gary James '10 • March 26, 2008

Share:
A lively discussion about intellectual diversity in higher education arose Tuesday night after nearly 100 audience members, including students, faculty members, and local citizens, gathered in Lovell Lecture Room for a screening of Indoctrinate U, a documentary about perceived contradictions of speech codes and other polices enforced on some American college campuses.

Professor of Religion and Philosophy Stephen Webb, faculty advisor of the Wabash Conservative Union, organized the screening of Indoctrinate U and the subsequent panel discussion led by History Professor Rick Warner and Philosophy Professor Mark Brouwer. The documentary is a production of On the Fence Films and was written and directed Evan Coyne Maloney, a fellow at the Moving Picture Institute.
Maloney interviewed professors, students, organizations, and citizens around the country who believed they had encountered intimidation or discrimination because of their beliefs or that specific policies regarding curricula, admissions, or campus speech were wrong.
"Welcome to the great market place of ideas: the American university," the documentary opened. "Here freedom of expression, honest discussion, and academic inquiry reign supreme. And the future leaders of our world meet as equals in a forum of open debate. At least that was the idea. The problem is that great market place of ideas has been reduced to just that, an idea. In reality, academia today is not a market place at all, it's a monopoly."
According to the film, university regulations and policies that are suppose to be ensuring tolerance and diversity were instead being employed to silence alternative views. Race, gender, and class issues, Maloney argued, were used "as ammunition for an all-out political war. What's at stake is nothing less than … the American university."
The film led the audience members through a maze of issues, including affirmative action and race, gender, and curricula formation.
At Monterey Peninsula College, Professor David Clemens criticized policy on proposing new classes. The instructor would have to describe how the course topic would address issues of race, class, and gender issues, whether it was a political science course, mathematics, or ornamental horticulture. This, he said, was an affront on academic freedom.
Hostile criticisms were directed at Professor Jay Bergman at Central Connecticut State University when he challenged the idea of reparations for descendants of slaves. He was called a bigot.
"Calling someone who disagrees with you a racist for simply calling for intellectual diversity is engaging in a kind of intellectual and academic thuggery," he said. Words like that are not designed to further a conversation or to enhance a debate; they are designed to end the debate, to de-legitimize the speaker."
Indoctrinate U resonated with many but not everyone in the audience.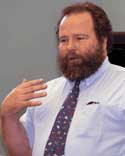 "It seems like we're living in a moment in the country where we need to relearn how to disagree with each other, and then reconcile the fact that we may have different opinions and not expect people to always agree with us," Dr. Warner said. "Recent events in our presidential campaign for example point to the direction that we sure have a lot of problems talking about race in this country still."
Senior Kyle Cassidy challenged the assumptions of the film.
"I found the film unpersuasive," he said. "He says quite a bit but he really demonstrates very little. He has three or four substantive accusations against individual universities of kinds of oppression. And the rest of it, he kind of relies on the stock footage of 18-to-22 year-olds being loud and dumb, which is hardly ideologically motivating."
Other students thought there were elements of the film that were not only accurate but could apply to Wabash as well.
"I don't think we have the same problems that other schools have but there are certain things outside that do come into Wabash," junior Royce Gregerson said. "One of them is textbooks. That's not such a big deal if you are studying Plato, but in the political science class I'm in right now the textbook makes the bold statement that far right parties are xenophobic and racist. That's troubling because I do consider myself to be far right but don't consider myself to be xenophobic or racist."
Freshman Kevin Stevens found a connection between the film's critique of curricula approaches and his own experience with English composition.
"I think I have similar experiences in English 101," he said. "We didn't talk about English Comp we talked about gender race and stuff like that. And I think the other thing that comes up is that we're all students and we're not really on par with a high level PhD professor who has probably been in education for 20-something years. And I think one of the things that comes out is that when we get into an argument it can be intimidating sometimes for us."
Associate Professor of Chemistry Scott Feller urged the students not to underestimate their own abilities to push back against whatever it is with which they have problems.
"I think you guys are selling yourselves way short," he said. "I think if we looked back forty years ago, students were getting their voices across. This is a cop-out if you're going to say 'I'm a victim and I'll back off.' If you feel the playing field is not level, I don't think the playing field has ever been level. And yet students have always engaged with the faculty, often in direct, confrontational ways. You are just as able to do that as students in previous generations."