Parks Entertains, Offers Advice
by Gary James '10 • March 25, 2008

Share: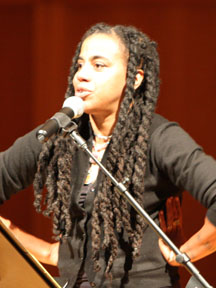 Pulitzer Prize-winning playwright Suzan-Lori Parks delivered a lively talk Tuesday night in which she advised an audience of more than 200 students, faculty members, and guests to entertain their "far out ideas."
Fraught with attention-grabbing physical gestures, humor, and unusual sound effects, Suzan-Lori Parks used her own life story and creative mind to offer suggestions and deliver lessons learned throughout her life.
Parks has loved writing since she was a child. But when it was time for her to choose what she would study in college, she decided to major in chemistry initially instead of English.
"I could write really good essays [in high school]," Parks said. "But I had a major problem, which was I was a very poor speller. And teachers would measure your intelligence by how well you spelled. No matter how hard I tried, I failed [spelling] tests every Friday."
Parks' English instructor and guidance counselor noted this fact when Parks told her that she wanted to study English at Mount Holyoke College in Massachusetts, where Parks had been accepted. The counselor discouraged Parks from pursuing an English degree, and, as a result, Parks, who was an exceptional science student, made the conventional decision to study science.
"I studied science. And I'd pour the substance from one test tube to another for hours and hours and I thought to myself, 'I'm dying,'" Parks said. "I had to take these core curriculum classes, and I took an English class where I had to read Virginia Wolfe's To the Lighthouse. This novel reminded me of what I loved; that I wanted to be a writer. [Wolfe] helped me remember myself, literally. It was as if my arms and legs had been cut off and thrown to the four corners of the earth. [To the Lighthouse] brought me back together."

Parks has been writing professionally for more than 20 years. She has written novels as well as plays for stage, film, and radio. Popular works include In the Blood, Venus, The Death of the Last Black Man in the Whole Entire World, and the award-winning Topdog/Underdog, which will be read by students in the current semester's Cultures and Traditions class.
Parks was the recipient of a Pulitzer Prize and the MacArthur "Genius" Award for Topdog/Underdog, which she wrote in three days. She said of Topdog/Underdog, "It just fell like silver into my head."
Parks, who received instruction from renowned playwright and novelist James Baldwin in college, told her audience to entertain all their far out ideas because could gain valuable experiences from them, like her idea to write a play a day for a year. That decision resulted in 365 Plays/365 Days and generated festivals from Moscow to New York City and an opportunity for Parks to meet a lot of interesting people.
She told her audience to reject advice that did not resonate with what was going on inside them and to try the advice that did. She urged them to practice listening to others because it would help them listen to their own voices; to lift others up as they climb the ladder of success; to write or paint for themselves and not audiences full of strangers or critics who may never like them; and to practice radical inclusion by embracing those who are not like them.
"The more 'all that' you get, the more you get to share," Parks said. "Always realize the value of kindness. And enjoy trip."
A number of theatre students were in the audience Tuesday. They were intrigued by Parks' unique perspectives on her craft and on life.
"I loved it. I think she's incredibly insightful," said junior Matt Goodrich. "It seems like she tirelessly somehow has created her whole view on life and the way she does her art. She even has a set of incongruent rules. I love it. It's just a very different way of looking at life."
Sophomore Spencer Elliot found an application of Parks' advice for his current role in an upcoming play.
"My problem is I always think too hard," he said. "I don't let things just flow. It's like I have five filters between my brain and my mouth. So as an actor who is specifically working on a comedy where I need to let go of my inhibitions, what she said about letting the words flow free really impacted me."
Suzan-Lori Parks' talk was part of the Visiting Artists Series, facilitated by the English and theatre departments, the Multicultural Concerns Committee, and the Malcolm X Institute of Black Studies.