Petro '10 Primed for Nationals Swim
by Matt Wilson, Journal Review • March 19, 2008

Share:
Decatur Central graduate Adam Petro was unsure if he wanted to take his swimming to the collegiate level.
He enjoyed success in high school — placing 16th in the butterfly and 15th in the backstroke during the state meet his senior year.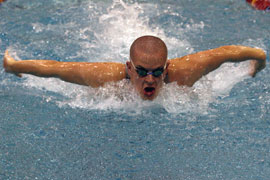 He knew he wanted to attend Wabash because of its 85 percent rate into medical school and the gentleman's rule, which states "The student is expected to conduct himself at all times, both on and off the campus, as a gentleman and a responsible citizen," and is the only rule governing the conduct of students at Wabash according to the school's Web site.

Petro still wasn't planning on swimming at Wabash until he was approached by former Little Giant coach Peter Casares. He convinced Petro he would be a good fit in helping rebuild the Wabash swim program. So far the Little Giant sophomore psychology major has done his part.
He has school records in both the 200 butterfly and 200 backstroke. And this weekend he will make his second-straight trip to the Division III National Tournament.
After placing 13th in the 200 butterfly at last year's national championships, Petro will compete in the 100 butterfly, 200 butterfly and 200 backstroke at the Miami (Ohio) University Student Recreation Center in Oxford. The meet is hosted by the College of Wooster.
Casares left last summer to take the head coaching job at Division III Bates College in Lewiston, Maine. He was replaced by John Weitz, a coach familiar with the Division III national championships. As an assistant coach at Johns Hopkins University, Weitz attended the national championships his previous six years before coming to Wabash.
From what he has seen, Weitz said Petro is capable of competing with the swimmers at the national level.
"Adam is a very typical Wabash man, he works hard and he plays hard," Weitz said. "He really does a good job of balancing school, social and athletics. He might be shorter than every guy he is swimming against, but he works his tail off."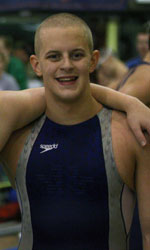 Petro left for nationals Tuesday. Today is to be more of an acclimation day, where he'll swim twice in the pool he has never competed in. Thursday is the opening day of the meet, but Petro will swim in no official events. He will compete in an exhibition 100 freestyle.
Friday he will swim in the 100 butterfly, then Saturday is his big day where he will swim in the 200 butterfly and 200 backstroke. Petro is seeded 28th in the 100 butterfly with his seed time of 51.29 seconds. He is seeded 13th in the 200 butterfly with his time of 1:52.18. In the 200 backstroke, he is seeded 15th with his time of 1:53.45.
The top eight swimmers from each event qualify for the championship races, while the next eight compete in the consolation finals.
Petro made a national-qualifying cut time for the 200 backstroke during a meet in December. Since it happened early in the season, Weitz and Petro both were unsure if the time would hold up. Petro bettered his chances of making nationals after reaching a "B" cut qualifying time of 1:53.58 in the 200 butterfly during the North Coast Athletic Conference Meet.

Making certain he would be in the pool for nationals, Petro bettered his conference time by swimming a 1:52.18 during the Feb. 23 Kenyon Invitational, which was an optional last-chance meet. With the way the meet is run, once a swimmer qualifies for nationals in one event he can choose any three events to participate in.
"I want to place in the top eight in all three of my events," Petro said, "because you get a plaque if you finish in the top eight."
But Petro is thinking about more than just himself this weekend. With the help of Petro's class, Wabash started making strides of improvement last year. Bringing in another strong recruiting class this season, the Little Giants progressed more. Scoring the most points it has since joining the NCAC in 1999, Wabash placed third at the conference meet with 1,066 points.

And with another strong recruiting class expected to come in next season, Petro is ready to help Wabash become recognized on the national level.
"From what I understand, we have come a long way in the last five years," Petro said. "We are very proud with what we have done and I think it's very important that we get recognized on the national board. And I would also like to take some points away from the DePauw swimmers."
Weitz said Petro already swimming in one national meet has allowed him to jump over the first hurdle that comes along with competing at nationals. He said anytime a swimmer goes to a meet that has the word national in front of it for the first time, they get a feeling of intimidation. Everything now is mental.
Weitz knows that Petro has the physical tools to come back with an even stronger performance than he had Feb. 23 at Kenyon. Petro now has to believe he can get the job done. They have been working this week on turns off the wall and being stronger underwater.
"We are just trying to find little ways that he can improve from his conference meet," Weitz said. "Our focus this entire season was to do well at the conference meet, now the goal is to repeat that process over and make your time even better."
Casares told Petro last year he was a swimmer capable of making the national meet. Never imagining himself as that type of a swimmer, Petro didn't believe his former coach. He made the consolation finals, placing 13th with his time of 1:52.77.
"The one thing you have to do is enjoy the moment, I know I smiled a lot last year," Petro said. "This is something that you have worked for, so this is supposed to be the highest point of your season, so you have to have fun with it."

Matt Wilson is a reporter for the Crawfordsville Journal Review. Wabash College Photos