Glee Club Sings Into Spring
by Steve Charles • March 17, 2008

Share: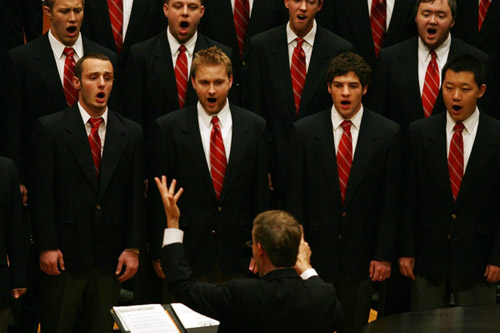 Fresh from a West Coast tour in the San Francisco Bay area, the Glee Club brought a spirituals, shanties, music from the 16th century, and even a little Elton John for their Spring Concert Sunday night.
And in the funniest moment of the night, the singers "refused" to perform anymore shanties, staged a make-believe "mutiny" against Glee Club Director Richard Bowen, and had the crowd laughing with their tuneful claims of being "sick of singing about the sea."
The evening also saw the successful revival of The T-Tones, the smaller ensemble made up of Glee Club members whose extra work adds the breadth of the group's repertoire. 
The emotional range of the pieces presented and the precision with which they were sung showed off the advantages of the week the singers spent together rehearsing and performing in California during Spring Break
Click here and here for photo albums.
Click here and here for photo albums of the Glee Club, Wamidan World Music Ensemble, Jazz Band, and Brass Ensemble at last weekend's Honor Scholars Concert.