Immersion, Mission Trips are Life Changing
• March 6, 2008

Share:
Over 150 Wabash College students who literally traveled the world over Spring Break have returned to campus. Some traveled with course-related Immersion Learning trips, others did student-driven missionary work in Botswana and in New Orleans, and still others "spread the fame of her honored name" singing in San Francisco and hitting baseballs in Texas.
All of the world travelers have updated the blog sites (listed at the right) and have loaded up new photo albums. Read about how the students' experiences changed their lives, from those who studied marketing in Indiana to others who learned about art and culture in Berlin.
Senior Torm Hustvet is one Wabash student who has made the most of his time on campus — and in his case - off campus, too. "I am incredibly thankful for my opportunities to travel to Ecuador (one month in summer of 2005), Belize, and the Everglades without the financial burden that many students at other colleges endure. I have gotten to know students and faculty in ways that have truly enriched my academic experience. If anyone would have told me that attending Wabash College (seven hours from my hometown of Waukon, IA) would allow me to meet the people I have met and see the sights that I have seen, I simply would not have believed it!"
Here are a few excerpts from a handful of the trips:
In Mexico, students from three academic divisions representing modern languages, history, and physics, learned about ancient Mayan culture.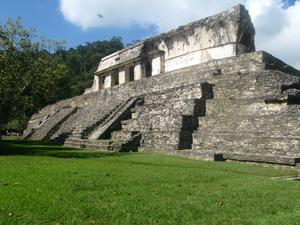 "As we studied in class, the relationship between architecture and archeology is prominent in Mayan civilization," wrote senior Zafer Ahmed. "Many of the buildings are built according to celestial events and bodies. For instance, the Temple of the Sun and the Temple of Inscriptions line up along the Zenith Passage. Palenque was ruled by the family of Palak and the sites excavated revolve around his family."
"I have learned so much in a couple of days," added Anthony Benitez '09. "I have not only seen the Mayan ruins but I have spoken to modern Mayans about their lives, society, and culture. I would like to thank all of the people that have made this trip happened."
With so much conflict and strife in the Middle East, it's tough to get a real sense of the issues involved. So Professor Phil Mikesell's "Politics of the Middle East" class had the rare opportunity to learn first-hand while traveling through Israel.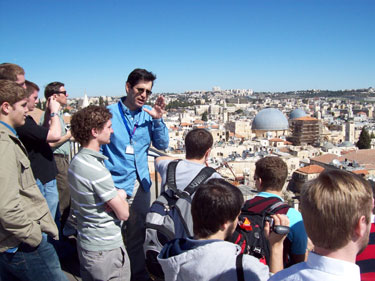 "We saw the Dome of the Rock, a holy site for Muslims and Jews alike (Mohammed ascended here, and Abraham bound Isaac in the same spot), but non-Muslims are not allowed to enter," wrote Aaron Bonar '10. "From atop a fortress built by King Herod, one could also see a Russian Orthodox Church built upon the spot where Jesus ascended into Heaven. As I looked at all of these sites from the tower, I felt chills up and down my spine. After reading the Bible and hearing about all of these miraculous events, I was finally seeing them myself (or, at the very least, seeing where they might have taken place). The thought of viewing the same land that early Christians, Jews, and Muslims viewed was and still is awe inspiring."
Bonar continued: "After spending an entire day in a holy place, one cannot help but sit and reflect upon the experience. I still cannot believe that I walked in the same places that Abraham and Jesus walked (maybe not the exact places due to centuries of construction, but close enough); it boggles my mind. The millennia that the city has lived through and all of the hardships it has faced are hard to comprehend by themselves, and the soul quivers when one thinks about all of the holy events that happened here. It has been quite a journey."
What better place to study Spanish language, art, literature, and culture than Madrid. Professor Gil Gomez' class was there last week.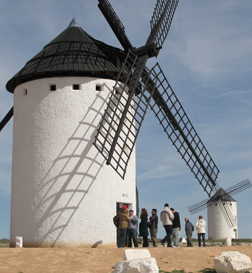 "We arrived at Reina Sofia's Museum of Modern Art," wrote art major Ivan Acebo-Choy. "The tall gray building houses several key artworks of the history of Modern Art, and we were all lucky to sit in front of them and discuss their importance. Professor Jaen-Portillo's mother, a practicing painter, and I helped the group to understand the paintings and their contexts. Picasso's works extended through white rooms full of people and young kids asking eager questions about the figures they saw. Joan Miro, Salvador Dali, Alexander Calder, Mark Rothko, Man Ray, Juan Gris, Georges Braque and other notable artists offered our class a glimpse of art, and the opportunity to learn about the history of Spain as expressed through the eyes of these fantastic artists."
Robert Campbell chipped in from Spain: "The class traveled to El campo de Criptana. These are believed to be the windmills that inspired Cervantes to write his infamous "windmill scene" in Don Quixote. Once, over 50 windmills covered the land, today, only 10 remain." (photo right)
Not everything goes as planned on Immersion Learning trips, though they are well-organized and usually glitch-free. But when transportation workers go on strike — like they did in Berlin — Wabash students were right there in the middle of it. Professor Brian Tucker's class actually enjoyed the headaches.
"Things were slightly complicated today," wrote always-happy Sam Prellwitz '10. "At three o'clock this morning the U-bahn (one of the two main train systems in Berlin) along with the bus line stopped running — the result of the strike by members of that specific transportation union. The city of Berlin is now left with only one train system, which makes life especially difficult when attempting to get from one place to another…This situation has made for some additional headaches, but more importantly a bunch of fun! We've been testing our ability to navigate the city with only half the lines and it's certainly a challenge sometime to even squeeze onto the train. It has certainly added an interesting detail to an already fun trip … Experiencing Berlin has been just that, an experience witnessed from every aspect of its broad culture, where even a walk down the street is a cultural experience."
One of the great things about Immersion Learning trips is the access to people they provide. For example, Professor David Hadley's political science class was in Washington, D.C. and had the opportunity to learn from some pretty major political players and analysts.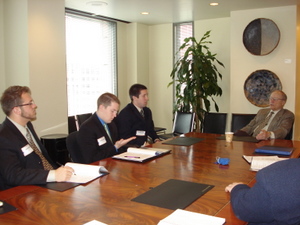 "In the afternoon, we had a meeting with Dr. James Thurber, Professor at American University, and foremost expert on Congressional/Presidential relations," writes senior Andrew Newkirk. "Talking with Dr. Thurber was most meaningful to our group because we've actually read some of his pieces in class; meeting the man behind the text was really something. While he spoke to us at length about Congress, interaction with the President, what I thought was most interesting was his predictions on the upcoming 2008 Presidential race." (photo left)
And it's right inside the Beltway where students saw how frustrating and complicated political issues are.
"It's a tough world out there," writes Gary James '10. "Every interest group has its stand on what's important to them. When dealing with a huge issue like health policy, it is very challenging to address all the concerns without mobilizing impassioned opposition from another issue area where that would be affected. Although former Representative Bill Archer could not give much advice for dealing with these realities and the partisanship, he did provide a great context for what goes on in our nation's capital."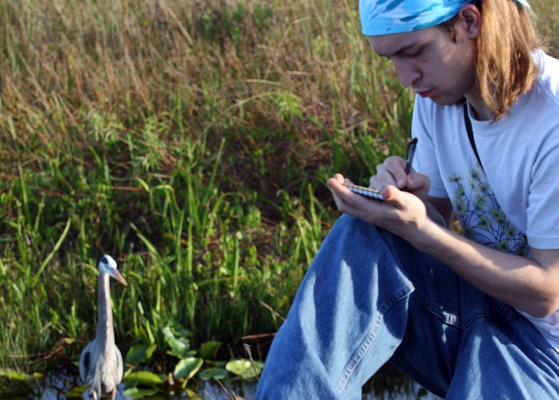 In South Florida, advanced biology students roughed it. They camped out in tents, ate food prepared by Professor Krohne on camp stoves, and literally lived in the ecosystem they studied.
For Torm Hustvet, the lessons the students learned are very, very real and reinforce the classroom work they've done. "Monday started early as we bypassed breakfast to observe the morning actions at Anhinga Trail," he writes. "We were able to observe the feeding behaviors of anhingas and great blue herons. Best of all, we were able to observe both a successful feeding by an anhinga and a less successful one. One unfortunate anhinga had gone through the trouble of catching a fish only to drop it to the waters below while trying to find a way to fit down its throat. An alligator near by had seemingly observed the anhinga having trouble and quickly occupied the area where the fish dropped. So the anhinga decided not to retrieve its lost breakfast. The lesson learned here was an important one: As a biology student in my senior year, I am used to predatory events being successful, and this observation directly contradicted my predisposed notions. Essentially, the anhinga caught the fish and provided a type of "carry-out" meal for the alligator. Not 20 meters away I observed a great blue heron take his meal well away from that area to avoid dropping it to the gators below. Not only did this appear to be some sort of adaptation, but it also displayed the wide diversity of birds and biology as a whole that I have been able to observe in only two days." (Phil Ruston in photo above right)
And while many Wabash students were in distant lands or warmer climates, a group of business-minded students interested in learning about advertising and marketing, battled wild Indiana weather to learn from the state's leading experts.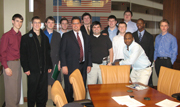 "By participating in the Marketing Immersion Trip, I have realized how important are the skills that a well-rounded student gains at a liberal arts college," writes Michael Opeiczonek. "In order to survive in the field of marketing you need to think critically and what I have learned so far tells me that your brain won't be sitting idle while working on a marketing project. I have also learned that a successful marketer needs to be creative. I mean this field in major part is all about Creativity! Creativity! Creativity!"