Wabash Alumni Host Students At Eli Lilly
by Tom Runge • March 2, 2008

Share: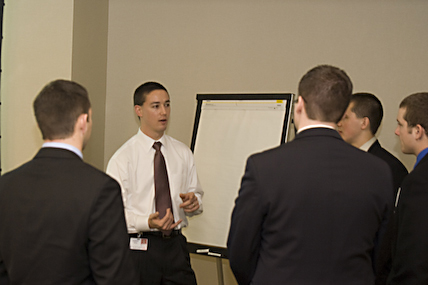 Eli Lilly, the giant pharmaceutical company has a long history of association with Wabash College. Currently, there are 66 Wabash alumni employed throughout Lilly. If the 14 students who visited Lilly on Friday, February 29, 2008 have any say in the matter, that number will rise soon!
Wabash alumnus Dave Lewis '81, the executive director of Global Tax operations for Lilly, lead a team of several Wabash alumni in crafting a great visit day for current Wabash students interested in employment with Lilly. Scott Crawford, Career Services director, and Betsy Knott, assistant director, escorted the 14 Wabash students on what proved to be a very beneficial day. The students had a chance to meet with many alumni in all facets of Lilly's operations, and spent quite a bit of time learning and discussing the Lilly hiring process.
In the meantime, President Pat White and Dean of Advancement Joe Emmick visited with several senior Lilly leaders, including: Chairman and CEO, Sidney Taurel; Senior Vice President for HR, Tony Murphy; Senior Vice President and CFO Derica Rice; and Vice President and Treasurer Tom Grein.
The Wabash students on the trip learned a great deal about Eli Lilly and came away with a much greater insight into the process Lilly uses to select new employees. In addition, the student saw first-hand the opportunities available to those who are superior performers at Lilly.
Many thanks to for a great day go to the following Wabash alumni at Lilly: Dave Lewis '81, Bob Klee '79, Jon Haug '00, Nick Guzik '02, Kip Chase '03, Mike Lynch '04, Brian Clem '04, Chris Ogden '06, and Jimmy Owens '06.
Photo:  Jon Haug '00 talks to Wabash students about potential jobs in Lilly's financial operations. For more photos, click here.