Season Ends In NCAC Title Loss
by Brent Harris • March 1, 2008

Share: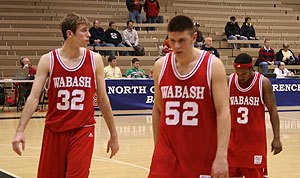 A 14-5 run by Ohio Wesleyan in later portion of the first half led to a 12-point halftime advantage and an 89-72 victory by the Battling Bishops over Wabash in the championship game of the 2008 North Coast Athletic Conference Men's Basketball Tournament. The loss brought an end to the careers of Wabash seniors Earl Rooks, Gary Simkus, and Andrew Zimmer.
Wabash led 11-7 nearly four minutes into the game before the Bishops eventually tied the contest at 20-20. A three-point basket by Robby Gardiner started OWU on its big first-half run, ending with two free throws by sophomore Brent Pleiman.
The Little Giants had no answer for OWU center Dustin Rudegeair. The senior hit 10-of-21 shots for a game-high 29 points to earn Tournament MVP honors. His 11 first half points guided the Bishops to a 42-30 halftime edge on the scoreboard.
Wabash shot 12-of-28 in the first half with all but seven of its points coming from Aaron Brock and Simkus. Brock continued his hot shooting, connecting on four-of-seven shots in the opening period for 12 points. He finished with 19 points to lead Wabash in scoring while earning a place on the All-Tournament team. Simkus added 11 first half points in his final game at Wabash, finishing with 15 for the game.
OWU jumped out to a 20-point lead in the first two minutes of the final period, holding the lead throughout most of the period.
Rooks nearly brought the Little Giants back into the game. The senior guard saved his best scoring effort for his final game, drilling a three-pointer with 1:48 left in the contest to trim the lead to 12. He hit four baskets and was a perfect 7-of-7 from the free throw line to score a career-best 16 points with two assists and four rebounds to also earn a spot on the All-Tournament team. The effort proved too little, too late for the Little Giants, who suffered their second championship loss in as many appearances since joining the league in 1999. Wabash lost to Wooster in the 2000 championship game.
Zimmer added eight points in his career finale, giving him 1,374 points in four season to finish tenth on the Wabash all-time scoring list. He ended ninth in career rebounds with 596, and third in career blocks with 118.
The Little Giants finish the season with a mark of 18-10, the most victories for a Wabash team since posting a 20-7 record in the 1999-2000 season (the last time the team played for the NCAC title).
Photo - (l-r) Wabash seniors Gary Simkus, Andrew Zimmer, and Earl Rooks head back to the Wabash bench after being recognized for the team's second place finish in the NCAC Men's Basketball Tournament.
Game Stats