Record-Setting Effort Puts Wabash Third on Day One
by Brent Harris • February 15, 2008

Share:
Elijah Sanders broke the Wabash record in the 500 free, while the Little Giants' 400 medley relay earned All-Conference honors at the 2008 North Coast Athletic Conference Swimming and Diving Championships. Wabash is third after the first day of competition at the three-day event held in the C.T. Branin Natatorium in Canton, Ohio.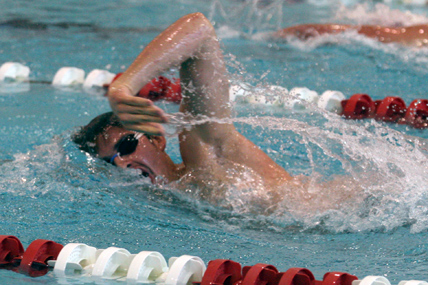 Sanders (right) shattered the mark of 4:42.18 set at last year's NCAC Championship meet by teammate Brent Graham. Sanders posted a time of 4:47.89 in the Thursday morning preliminaries, just short of the mark needed to make the "A" finals. He poured on the steam in evening session, swimming the fifth-fastest finals time with an NCAA "B" cut time of 4:38.71, topping Graham's record by nearly four seconds.
Zach Phillips, Evan Rhinesmith, Adam Petro, and Jordon Blackwell took third in the finals of the 400-yard medley relay to pick up the first All-Conference awards for the Little Giants. Their finishing time of 3:28.70 was also good enough for an NCAA "B" cut and boosted the Little Giants past Wooster and into third with a total of 304 teams points after the first day.
The Little Giants' depth in the 50 free helped add to the overall team total. Wabash had four swimmers in the "B" final of the 50 free. Robert Fozkos finished 10th with a time of 21.61. Blackwell was 12th (21.84), while Philip Towne (14th, 22.02) and Blaine Cooper-Surma (15th, 22.07) both placed ahead of the top competitor from Wooster.
Eric Vaughan was 13th in the 200 IM with a time of 1:58.31. Craig Vetor made the "B" final as well, finishing 16th with a time of 1:59.86. Rhinesmith and Peter Hewitt were 17th and 18th respectively in the "C" final to add to the Wabash total.
Wabash divers also had a good first day of competition with two competitors advancing to the finals. Cole Hatcher took seventh on the one-meter board with a total of 345.45 points. Rob Fenoglio was eighth with a score of 315.05.
Denison leads the early team scoring at the meet with a total of 557 points. Kenyon is second at 452. Wooster trails Wabash's 304-point total at 241. Wittenberg (207), Allegheny (151), Hiram (122), Ohio Wesleyan (121), and Oberlin (114) round out the results.
Competition continues Friday morning with preliminaries at 10 and finals in the evening at 6:30.
Complete results and information can be found at the Championship web site.