Gussman '09 Wins Baldwin Oratorical
by Howard W. Hewitt • February 11, 2008

Share:
Grant Gussman '09 stepped up a spot in the 134th Baldwin Oratorical Contest Monday night to claim the storied competition's top prize.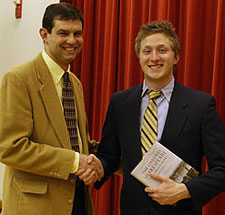 Gussman finished second last year and used the experience to best a talented five-man competition. His presentation, "Gangster Existentialism," impressed the judges for his casual style and substance. Richard Roomes '08 was second with his speech, "The Semblance of Happiness." Jeremy Burton '08, a winner two years ago, took third with his "Good Samaritan" speech.
The theme for this year's competition was from pop culture: "Get Rich or Die Trying."
Gussman focused on life decisions driven by what other people tell us to think. "We as Americans are far too content to let others tell us what success is," he said. "Whenever there is a fast track to success, people often take it. But we accept that, we stop thinking critically.
"You don't need someone to give you the answer, sometimes it's okay to wait and figure things out yourself."
Gussman was also impressed with the other four competitor's speeches. He was very happy to move from second to first after last year. "It's really great to know my name is going on that plaque in the lobby too," he said, noting the historical significance of the Baldiwn competition.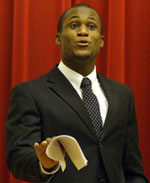 Roomes used an entertaining theme focused on Americans as "consumption junkies." He played off the theme of addiction, admitting his own consumption excess and how the realities of life quickly bring you back to a more balanced life.

Burton's third place speech focused on the drive to acquire material things in life but suggested real wealth is in learning to give.
The other two finalists from the initial group entered were Daniel King '10, got the audience's attention by opening with a rap from Fifty Cents, and Victor Nava '10 who explained why he wanted to be a teacher.
The contest was truly special for one of the three judges who was able to re-live a moment of his youth. Jim Bond '64, Seattle University School of Law Dean Emeritus, won the Baldwin competition when he was a Wabash sophomore in 1962.

"It's so interesting to see yourself again as it were and remember you were once that young and that enthusiastic and that clever," he said. "I think the Wabash man has probably not changed a lot through the years based upon what I saw this evening."
And he was impressed by the talented five Wabash students. "I thought they were outstanding. "They all appeared to be so relaxed and in command of their material. They knew the points they wanted to make and made them."
Professor of Political Science Phil Mikesell '63 and Director of the Lilly Library John Lamborn were the other two judges.

The Baldwin Oratorical Contest began in 1873. The contest is made possible by an endowed gift from D.P. Baldwin. Daniel Pratt Baldwin was a long-time College Trustee known for his lectures on English, Literatures, and Economics.
In 1873 the prize was a copy of the complete works of William Shakespeare. The same prize, along with a cash award, is still presented today.
In photos: Top to bottom: Rhetoric Professor Todd McDorman congratulates Gussman. Roomes, Burton, Nava, and King during their presentations.