MXIBS Unveils Letter X
by Kim Johnson • February 11, 2008

Share: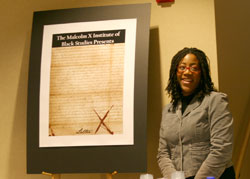 Professor of English Ravyn Wilson-Bernard welcomed the standing room only crowd to the celebration and unveiling of the Letter X: The Academic Journal of the Malcolm X Institute of Black Studies.
In addition, members of the editorial board spoke about the process of planning, building, and producing the newest academic journal at Wabash College. "We are proud of what we have been able to accomplish," said one of the managing editors, Ndeto Mwose.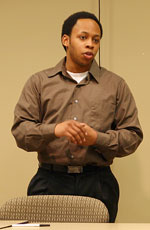 After receiving between 20 and 30 papers for consideration, the editors chose five for the first edition of the journal. Editor-in-Chief Bernard Meyer said they were looking for "serious scholarly documents" to set it apart from the other MXIBS publication, X-Position. The Letter X will be published each fall and the X-Position will continue to be published each spring.
Managing Editor Earl Rooks explained that the meaning behind the journal's name Letter X is reminiscent of the days when slaves had to sign their names in order to be emancipated. Since most of the slaves were uneducated and illiterate many had to resort to signing the letter "X" instead. He stated, "[The Letter X] is a celebration of the scholarship we were once denied."
Copies of the Letter Xcan be picked up at the MXIBS.