Washington, DC Alumni Hosting Jim Graham '65 Externships
by Tom Runge • February 6, 2008

Share: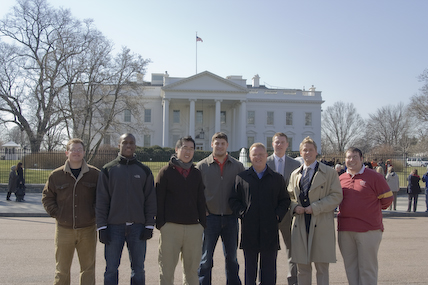 Spring Break is almost here. Many of our young men will be headed south for warmer climates and a large dose of "Relaxation". However, six of our young men will head to Washington , DC to partake in a life-changing opportunity from March 2nd to March 8th. They'll be this year's group in the alumni-sponsored Jim Graham '65 Externship program.
The program is named after one of the founders of our National Capital Association of Wabash Men, Colonel Jim Graham '65. Jim was a leading force in developing what is today our most active regional group. While Jim lost a valiant battle to cancer a couple of years ago, his impact continues in a number of different ways. This program is one.
The Washington area alumni support this program in a number of ways. First and foremost, they provide a bulk of the financial backing that makes the program possible. Second of all, they open their homes to the Wabash students participating, they sponsor a couple of social get-togethers, and our alumni provide an even more important look at life after Wabash. Finally, our alumni provide real work opportunities where our students get a chance to see Washington and the "real world".
This year's externships include a working in a Congressman's office, The Federalist Society, a consulting firm, and a production company, among others.
Photo: The 2007 externs after a tour of the White House.