Organist Olivier Latry to Give Recital at Wabash
by Karen Handley • February 4, 2008

Share: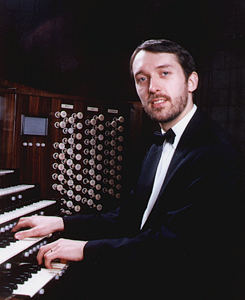 The Music Department at Wabash College invites you to the ninth annual Roger H. Ide Organ Recital at 3 p.m., Sunday, February 10, in Pioneer Chapel. This year's recital will be played by Olivier Latry.

Latry, titular organist of the Cathedral of Notre-Dame in Paris, is one of the world's most distinguished organists, not only in France, but in the international community. Born in Boulogne-sur-Mer, France, he began his study of piano at the age of seven, and his study of the organ at age 12; he later attended the Academy of Music at St. Maur-des-Foss™s, studying organ with Gaston Litaize. From 1981-1985 Olivier Latry was titular organist of Meaux Cathedral and at age 23 he won a competition to become one of the three titular organists of the Cathedral of Notre-Dame in Paris. From 1990-1995 he taught organ at the Academy of Music at St. Maur-des-Foss™s, where he succeeded his teacher, Gaston Litaize. Since 1995 he has taught at the Paris Conservatory.

In addition to concerts and teaching, Latry has made his mark through recordings on the BNL label in France, which include music of Bach, the complete organ works of Maurice Durufl™, Louis Vierne's Symphonies 2 & 3, Widor's Symphonies 5 and 6, and a recording of works by Litaize. Most recently he has recorded with Deutsche Grammophon the complete organ works of Olivier Messiaen, a recording of transcriptions for the organ entitled "Midnight at Notre-Dame" and a recording entitled "In Spiritum" devoted to the organ works of C™sar Franck.

Latry has performed in more than 40 countries on five continents, appearing most often in the United States. He made his first American tour during the fall of 1986, and has subsequently made annual tours to the U.S., playing recitals in major cities coast to coast, as well as in cities throughout Canada. In addition, he has made special trips to appear for regional and national conventions of the American Guild of Organists as well as for inaugural recitals of new instruments and for major music festivals and summer schools (Westminster Choir College, McGill University and the San Anselmo Organ Festival). In 2005 Latry played a solo recital at Walt Disney Concert Hall in Los Angeles and opened the new Rieger organ at Bryn Mawr Presbyterian Church in Pennsylvania. In 2006, he was the featured soloist for the opening of the new Dobson organ at Verizon Hall in Philadelphia where he performed for three sold out audiences in gala concerts with the Philadelphia Orchestra under the direction of Christoph Eschenbach.

Latry has a particular interest in contemporary music and has premiered works of Xavier Darasse, Claude Ballif, Thierry Pecout, Vincent Paulet, Thierry Escaich, and Jean-Louis Florentz. In early 2000, he performed three complete cycles (six recitals each) of the organ music of Olivier Messiaen, at the Cathedral of Notre-Dame in Paris, at the Church of St. Ignatius Loyola in New York City and at St. Paul's Cathedral, London. A recording followed these performances for Deutsche Grammophon of the complete organ works of Messiaen at the Cathedral of Notre-Dame.

The annual Roger H. Ide Organ Recital is funded by a bequest from Dr. Roger Ide, Class of 1959, who served as the Wabash College organist while he was a student. The memory of that experience was such a pleasant one for Dr. Ide that he chose to perpetuate the music with a gift that makes it possible to enjoy organ recitals for years to come.

The concert is free and open to the public.