Pacers Host College Night Each Tuesday Home Game
• January 29, 2008

Share: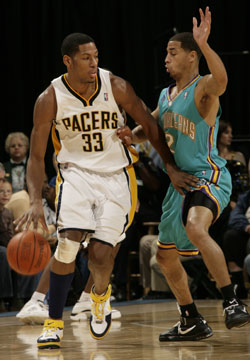 The Indiana Pacers are giving college students the opportunity to see a game in Conseco Fieldhouse for a special price on a night specifically for them.
Pacers College Night gives college students the chance to see a Pacers game from the best available seat in the balcony for $10 and receive a free College Night t-shirt at the game.  Students can take advantage of this offer every Tuesday home game for the remainder of the season.
On Monday before each College Night, Pacers' mascot Bowser and members of the Pacemates dance team will appear on select college campuses and provide giveaways and entertainment. 
The remainder of the Pacers College Night schedule is Jan. 29 vs. Detroit; Feb. 5 vs. San Antonio (Tim Duncan, Tony Parker); Feb. 12 vs. Boston (Kevin Garnett, Ray Allen, Paul Pierce); Mar. 11 vs. Seattle (Kevin Durant); Mar. 25 vs. New Orleans (Chris Paul); and Apr. 8 vs. Atlanta.
Tickets can be purchased at Pacers.com or at the Conseco Fieldhouse Box Office.  More Information about College Night can be found at Pacers.com. 
For group ticket information, contact Ryan Davenport at (317) 917-2896.  For additional information, contact Eric Saxton at (317) 917-2805 or Pacers Sports & Entertainment's Public Information Department at (317) 917-2500.