Alumni Board-Sponsored LSAT "Boot Camp" Producing Results
by Tom Runge • January 28, 2008

Share: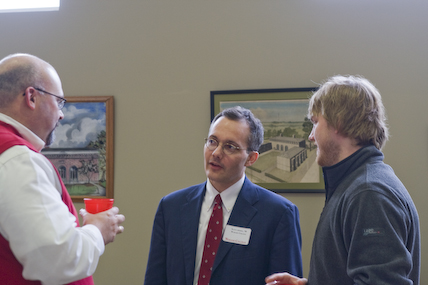 It wasn't so much a problem as an opportunity to show our true colors. There was a general consensus on campus that our guys' LSAT scores weren't equal to what we knew was their true ability to attend and prosper at law school. After a brief period of investigation, the answer was pretty simple - send them off to "Boot Camp" and provide some targeted education on taking the LSAT! Our guys were capable, but Wabash isn't a place with even a small amount of fill-in-the-blank, standardized tests.
Led by Scott Himsel '85, the board's many lawyer members began an effort to sponsor an on-campus boot camp for LSAT prep. They are not teaching the test, they are educating our guys on the testing methodology behind the LSAT. After three sessions of the boot camp, Scott reported to the board at this past weekend's meeting that the boot camps are already paying dividends. Not only are the average scores increasing, but we've seen a significant increase in the number of guys who are scoring above the 90th percentile.

The boot camp has been provided through the generosity of many Wabash lawyers. Their financial contributions allow us to offer the LSAT preparation at a fraction of it's cost. Just another way the Wabash alumni network is serving our students!
Photo: Scott Himsel '85 (center) and Jim Dimos '83 (left) discuss the law profession with a current Wabash student.