Former Comedian to Present Leadership Program
by Brandon Stewart '08 • January 16, 2008

Share:
Mary Jane Pories, founder of Fishladder Inc., will present her dynamic presentation Thursday, January 24th sponsored by both the LEAD (Linking Education and Alumni Development) program and the Schroeder Center for Career Development.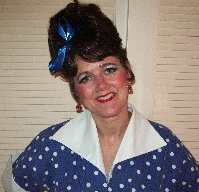 The lecture, which will be at 7 p.m. in Korb Classroom, is designed to help students understand how to be better communicators and innovators.
According to Mike Warren, Associate Director of Alumni Affairs, "The L.E.A.D. Program was developed from an initiative in the previous strategic plan as a way of introducing the students, through different activities during their undergraduate years, to the responsibilities and privileges of being a Wabash alumnus."
With this objective in mind, Warren said this presentation is being brought to campus in an effort to "help our students become successful, independent, adults in addition to being active members of the alumni body. [Ms. Pories'] presentation will show needed skills in the areas of motivation, leadership, communication, and teamwork. We feel like this will benefit every student whether they are freshmen beginning their second semester or seniors preparing for graduation."
Pories is an alumna of the comedy and improvisation troupe, Second City which came to campus last fall. After leaving that group, she went on to found Fishladder Inc. in 1999, which brings improvisation into the workplace and beyond in an effort to "improve teambuilding, communication, and creativity."
Since the founding of Fishladder, Pories has put her talents to good use, building up an extensive client list ranging from giant companies to small nonprofits in job markets ranging from engineering to marketing to health.
Her work and the work of her organization has garnered a lot of praise and recognition. Her many awards include the Women of Achievement Tribute Award 2004, the Silver Townie Award for Best Improv Troupe in 2003, 2004, 2005 and 2006; Ernst & Young Entrepreneur of the Year, 2003, 2004 nominee; 2002 Neighborhood Business Award: Best Reuse of a Building; 2001 Neighborhood Business Award: Best Response to an Idea or Need; Theater Excellence Award, The Second City, Detroit Free Press Theater Awards, 1999 Nominee; Ben Franklin Award, Actors' Theatre for original play Lakefront Property.
In phot Pories often uses costumes as part of her presentation.