Third Eye Blind to Play Chadwick Court
• January 14, 2008

Share:
Third Eye Blind, one of the biggest bands from the 90s, will perform at Wabash College's Chadwick Court Feb. 9.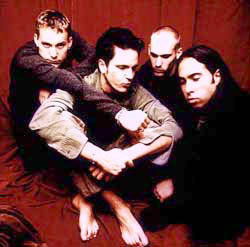 The group, which formed in the early 90s in San Francisco, has been described as rock, alternative, and power pop. They are probably best known for their 1997 very successful self-titled debut album and their biggest hit "Semi-Charmed Life." The tune was featured on several movie sound tracks. "Jumper," "How's It Going to Be," and "Never Let You Go" were other major hits.
The band is currently touring to support their latest release ThirdEyeBlind – A Collection. The band has toured since its inception with the exception of a two-year hiatus earlier this decade. Guitarist Kevin Cadogan left the band in 1999 and bassist Arion Salazar has not been playing with the group in recent shows.
They still play major venues and events across the country.
Students may see the show free by showing their student ID. Tickets for guests will be $20. Ticket sales for guests, students, and faculty will be sold up until the show. Tickets will be available from noon-1 p.m. in the Allen Center Lobby.