Wabash College Awards Tenure to Four
by Howard W. Hewitt • December 19, 2007

Share:
Four Wabash College professors have earned tenure, achieving an important milestone in any teaching career.
Professors Rick Warner, William Turner, Jennifer Abbott, and Michelle Rhoades have all been granted tenure by the College.
"This year's tenure review candidates are a really impressive group," Dean of the College Gary Phillips said. "The central question a tenure review must answer is do we find evidence of an effective teacher/scholar who, as the Faculty Handbook states, "support[s] the mission of the college through excellent and innovative teaching, continued scholarship and creative work, and leadership in the life of the community."
Phillips said the bar for a successful tenure review is high at all institutions but particularly at Wabash where teaching excellence is required. "Michelle, Jennifer, Rick and Will have demonstrated by ongoing reflection on teaching, student evaluations, direct observation by faculty colleagues, and more the qualities of mind and heart that make for transformative teaching and learning on our campus. Each in her or his own way is the sort of teacher/scholar that for 175 years has changed the lives of Wabash men. The celebrated teacher/scholar luminaries of the College's past have now added to their group four new stars."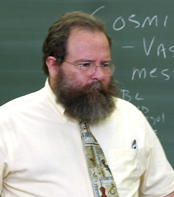 History Professor Rick Warner called tenure an affirmation. "When tenure is awarded at Wabash College, the community is expressing trust - trust that the professor will continue to bring all of her or his skills into the classroom each day, trust that we will continue to stay active in the scholarly community, but most importantly trust that the professor will continue to be a good fit for the community. As we know from the Gentleman's Rule, trust is precious. Tenure is precious."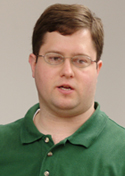 As a Professor of Mathematics and Computer Science, Will Turner appreciates the acceptance tenure represents. "I feel as if I have finally found a home," Turner said. "I especially appreciate the liberal arts environment and the way students, faculty, and staff interact to discuss almost any topic at any time. I would have never considered attending a place like this as an undergraduate, and now I think that attitude was a mistake."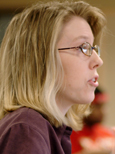 For all four professors the news is a thrill. "It feels like a big vote of confidence," said Professor of Rhetoric Jennifer Abbott. "I'm looking forward to many more years of teaching and researching at the College."

History Professor Michelle Rhoades found similar joy in receiving the tenure news.
Much is said about teaching at Wabash and many often refer to the experience as one of give and take.
"When we are at our best as professors, teaching is not something that is done to our students; rather, learning is something that is done with them," Warner said. "At Wabash College we place a higher value on discovery than on memorization. The classroom experience is interactive here. Yet learning and teaching transcend the classroom door. Wabash students learn in the living units, in the professor's office, and across the globe. I am honored and excited to have been charged with teaching another generation of Wabash men. And I look forward to learning from them."