Brock's 21 Sends Wabash to Third Straight Win
by Brent Harris • December 18, 2007

Share: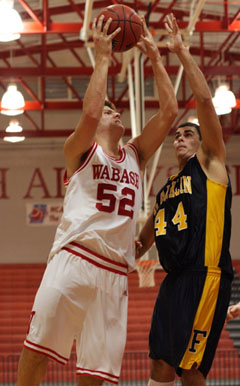 Sophomore forward Aaron Brock scored a career-high 21 points to lead the Little Giants to a 64-58 win over Franklin College Tuesday night at Chadwick Court. The victory was the third in a row for the Wabash basketball team and avenged two losses to the Grizzlies last season. (View photos from the Little Giants' win.)
Wabash, playing for the first time in 10 days, got off to a bit of a slow start. After the Little Giants took a 6-4 lead, Franklin went on a 9-2 run to take its biggest lead of the night. The Grizzlies held a 19-18 edge with 8:37 left in the first half before Brock spurred a Wabash run. He grabbed a rebound on a missed three-point attempt by the Grizzlies, taking it all the way down the floor for a layup. Senior Earl Rooks penetrated the lane, pulling up to hit an eight-foot jumper at the six-minute mark to put Wabash up 22-19.
Brock would add two more layups for 12 first half points, answering a putback basket by Franklin's Jon Neill and two Sean Drake free throws for a 26-23 halftime edge in favor of the Little Giants.
Franklin scored the first point of the second half on an early Wabash foul before the Little Giants went on another run. Andrew Zimmer (left) scored a basket and a free throw, followed by two free throws by Brock to move in front 31-24. The sophomore answered another Franklin basket with four more points for a nine-point Wabash lead.
The Grizzlies trimmed the advantage to four before Zimmer and Chase Haltom began to catch fire. The two combined for 18 second half points --- 10 from Zimmer and eight from Haltom. Things appeared to be well in hand for the Little Giants, leading by as many as 15 points midway through the final period before Franklin mounted a comeback.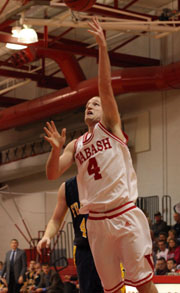 Wabash held a 57-45 edge with 2:36 left in the contest before a three by Dustin Marshall and two free throws by Neill made it a seven-point game. The Little Giants traded free throws by Haltom with three-pointers by Grizzlies in the final minute, but Franklin ran out of time for any late heroics.

Brock nearly scored a double-double after topping his 20-point effort last season at Allegheny. He finished with eight rebounds, two steals, and two blocked shots. Zimmer added 12 points. Haltom had 11 and Gary Simkus tossed in 10. Jace Redman led Franklin with 16 points, while Neill added 15.

Wabash (5-3) heads to San Antonio, Texas after Christmas to play in the Trinity University/Southwestern University Holiday Classic. The Little Giants play Trinity on December 29 at 3 p.m. before finishing with Southwestern Sunday, December 30 at 1 p.m. 

Photos - (top left) Senior Andrew Zimmer scores in the second half.
(Bottom right) Chase Haltom scored eight points in the final period to help Wabash to the win.

 




Results: Wabash 64, Franklin 58 Game Stats