What Truly Matters
• December 13, 2007

Share: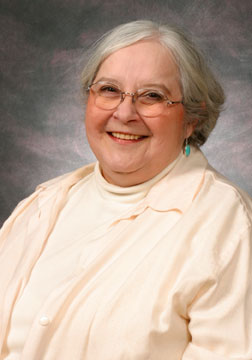 Although she officially retired from the College in May 2007, Public Affairs Senior Writer Susan Cantrell wasn't well enough for a reception until last August. And as we gathered in the Trippet Hall dining room for the event, some of us worried that the turnout would be less than appropriate for someone who had done so much for so many at Wabash. Susan had been struggling with her health for several years, she hadn't written for the College for more than a year, and in our line of work, you tend to be appreciated for what you've covered or written—lately.
Besides, it was summer, and many of those who would want to come were on vacation, or not yet returned from sabbaticals.
But two hours after the reception began, as I stood in line still waiting my turn to greet the guest of honor (listening to her most recognizable laugh and remembering another reason we had missed her), I realized the only thing we really had to worry about was running out of food.
So many people had come! And, in typical form, Susan was talking with each one like he or she was the only person in the room.
As scores of Wabash students and professors she has interviewed over the years will tell you, Susan creates a safe place for conversation. It's both her vocation and simply who she is. She's done it professionally as an aide for Senator Charles Percy, in her work with CBS in New York where she interviewed the social and political elite of the city, and she's done it at Wabash as director of
public relations and senior writer.
In the process, she has written the College's most moving and elegantly crafted speeches, articles, and citations.
Eloquent as she is, though, Susan's skillful use of language has a higher calling. Her role at the College may have changed over the years, but one thing never did—her ability to show us why the person she's writing about should matter to us, and why we matter to each other more than we dare say.
The most important thing we learned from Susan was not the history of Wabash, though she knows it like few others; or even the importance of finding just the right word for the occasion, though she always did.
What we have learned from Susan is something she does even better than research or writing—to pay
attention to the connections between us. The bond we share. To take time for each other, to listen, and to laugh. And to never lose the joy of working in a place of where curiosity and questioning are expected, where discovery is the norm.
Which is why the turnout at her reception was so gratifying. Not only had faculty, staff, and friends at the College not forgotten Susan, but they were honoring the relationships she had nurtured with them—they were practicing the life Susan wrote about, lived, and taught us during her years here. They were being Wabash.
We may be able to replace some of the skills Susan brought us, and thanks to other longtime staff and
faculty we may be able to hold onto some of the institutional memory that leaves us with Susan's retirement. But that spirit of joy, that wisdom of knowing what truly matters, is irreplaceable.