Little Giants Tame Tigers
by Brent Harris • December 6, 2007

Share: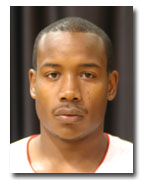 This time there would be no last-second field goal for the win.
Wabash never trailed in Thursday night's annual meeting between the Little Giant basketball team and the squad from DePauw University in a 71-60 victory. The Tigers, who kicked a field goal on the final play of this year's Monon Bell Classic between the two school's football teams would be unable to mount a comeback attempt at Chadwick Court. (View the photo album from the game)
Earl Rooks (right) started the game with a jumper in the lane and a three-pointer from the right side to put Wabash up 5-0. The team never looked back. Rooks finished with a career-high 10 points, hitting 4-of-7 shots from the field, including 2-of-3 three-point attempts.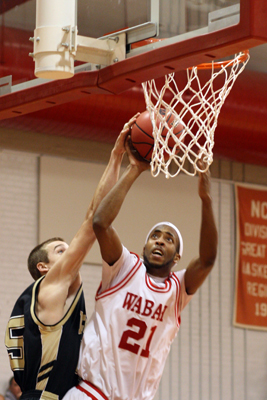 Wabash led by as many as 13 points in the first period behind a 10-point effort from sophomore guard Chase Haltom and nine from senior center Andrew Zimmer. Haltom drove the lane time after time when he wasn't popping open for a couple of treys in the opening period. Haltom and the rest of the Wabash offense kept the Tigers from double-teaming Zimmer inside. The pre-season All-American hit on four of his five shot attempts, including a big three-pointer with 1:01 left in the half to boost Wabash to its biggest lead of the period.

Freshman Wes Smith (left) had a quiet start, scoring half of his eight points in the opening half from the free throw line. He scored five in the second half for 13 total points, but dominated the glass to grab 11 rebounds for his first career double-double. He added two blocked shots, three assists, and three steals.

The Tigers tried to close the gap several times in the second half behind the outstanding guard play of junior Mike Moore. He finished 8-of-18 from the field for a team-high 20 points. Moore's opening basket of the second half cut the Wabash lead to eight. Another DePauw basket made it a six-point game before Rooks answered with a jumper in the lane, followed by an Aaron Brock three. Rooks responded with another three after a layup by Tom Callen to put the Little Giants up 44-32.

Wabash took a 14-point edge midway through the period before DePauw mounted one more run. Moore's layup and free throw with 7:53 left made it a 57-51 contest. The two teams traded baskets before a three by Ryan Werntz cut the lead to five.

It would get no closer. A basket by Smith and free throws by Gary Simkus pushed the advantage back to nine. DePauw missed a three that was rebounded by Smith. He drove the length of the floor, putting home the layup for a 67-56 lead with 1:55 showing on the game clock. The Little Giants hit four free throws down the stretch to hold off DePauw while picking up their second win in a row over the Tigers at home and answering a 10-point loss to the Tigers in Greencastle last year.

Wabash improved to 3-3 with the win, while DePauw suffered its second loss in row to fall to 4-2. The Little Giants will have one day off before returning to Chadwick Court for a 3 p.m. contest against Marian College Saturday.




Results: Wabash 71, DePauw 60 Game Stats