A Snowy Ending To A Special Season
by Brent Harris • December 1, 2007

Share:
Wabash football fans walked into a Wisconsin winter snowstorm and an extremely talented UW-Whitewater football team in Saturday's NCAA Division III Football Regional final. The Little Giants fell behind early on the way to a 47-7 loss to the second-ranked Warhawks. (View photos from the game.)
The Little Giants threw five interceptions, including three in the first quarter that led to three quick scores by UW-W. The Warhawks outgained Wabash 523-196.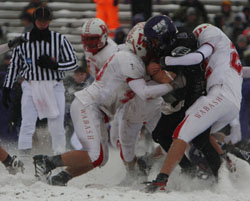 Senior All-American quarterback Dustin Huff returned to the starting lineup for the first time since suffering a broken ankle in the final minute of the first game of the season for Wabash. His return was spoiled on the second play of the game when Gabe Schultz snared the first interception of the game. The Warhawks made a quick transition from defense to offense and scored almost as quickly. Three plays after the pick UW-W was on the scoreboard on a three-yard touchdown run from Justin Beaver. The three-time All-American running back gained 145 yards on 21 carries, helping the Warhawks to 338 rushing yards in the game.
Wabash mounted a four-play drive that stalled at midfield. Whitewater took the punt and proceeded to march 60 yards for its second score, reaching the end zone this time on a pass from Danny Jones to tight end Nick Slupski for a 14-0 lead.
Huff was picked on his second pass of the next drive, leading to another Whitewater TD on Jones six-yard rush. The touchdown gave the Warhawks a 21-0 lead with five minutes left in the opening quarter.
Matt Hudson took over at quarterback, but was had no better luck. He tossed an interception on his first pass attempt, giving the Warhawks a short field to work on offense for the third time in the period. Jones went deep to Neil Mrkvicka for a 33-yard scoring strike and a 28-0 lead before the first quarter came to a close.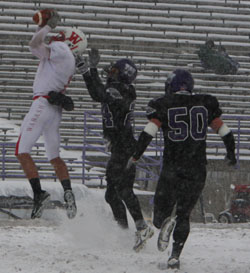 Wabash would mount only one offensive drive in the first half, completing a 34-yard pass from Hudson to Mike Russell as part of a six-play, 36-yard drive. Unfortunately that drive would end in the fourth interception of the first half.

Whitewater added another score late in the second quarter to take a 35-0 lead at the break. The Warhawks dominated the first half stats, rushing for 170 yards and throwing for 294.

The Little Giants put together their only scoring drive of the game on the first offensive series of the third quarter. Hudson capped a 12-play, 84-yard drive with a six-yard touchdown pass to Russell on a fade to the left corner of the end zone. The scoring drive proved to be one of the few highlights of the game for Wabash.

"They're a great team," head coach Chris Creighton said after the game. "I wish them best of luck the next two weeks. Whitewater certainly has the talent to win the national title.

"I'm also very proud of our guys. We played hard and had fun. As good a group of players as Whitewater has, I wouldn't trade a single player for any of the guys on our team. I'm not just proud of the Wabash guys as football players, but as men."

Adi Pynenberg, playing in his final college football game, helped pace the Wabash defense with 10 tackles. Freshman Jake Martin, who came into the ball game for an injured Chad Peterman, added a career-best 10 stops. Andy Deig also made 10 tackles in his final game as a Little Giant.

Hudson was 16-of-33 for 156 yards and one TD with three interceptions. Huff completed one pass for 13 yards. Brock Graham had five catches for 46 yards, while Russell managed seven receptions for 71 yards and a score.

Wabash finished with a record of 11-2.

Photos - (top left) A host of Wabash defenders work to bring down Whitewater quarterback Danny Jones.

(bottom right) Mike Russell completed his career with four receptions for 71 yards and a score.




Results: UW-Whitewater 47, Wabash 7 Game Stats