Chamber Orchestra Concert on Sunday
by Karen Handley • November 27, 2007

Share: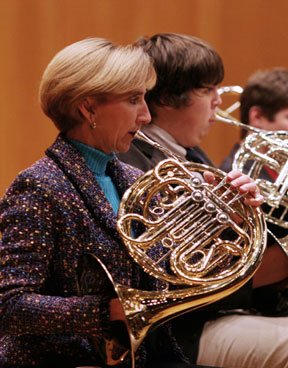 The Wabash College Chamber Orchestra invites you to an evening concert at 7 p.m., Sunday, December 2 in Salter Concert Hall in the Fine Arts Center.
Under the direction of Wabash music instructor, Alfred S. Abel, the Wabash College Chamber Orchestra consists of a diverse group of Wabash College students, faculty, and members of the Crawfordsville community.
The concert will begin with Mozart's overture to Don Giovanni — an exciting and darkly dramatic piece that sets the stage for Mozart's romantic treatment of the Don Juan legend. The Chamber Orchestra's principal horn, Anne Sexton, is featured next in Mozart's Eb Horn Concerto #3, K. 447. It is a mature work that amply demonstrates Mozart's love of the horn and serves as a fine vehicle to display the soloist's virtuosity.

Three examples of Brahms' Hungarian Dances will follow. Originally written for piano, the orchestrated versions have become a part of the standard symphony repertoire, and continue to captivate audiences with their colorful ethnic beauty. The concert will close with Edvard Grieg's Peer Gynt Suite #2. Along with his piano concerto, the Peer Gynt Suites are Grieg's best loved and best known works, full of brooding Norwegian harmonies and lively character dances.

The concert is free and open to the public. No tickets are required.