40th Annual Christmas Festival of Music and Readings
by Karen Handley • November 26, 2007

Share: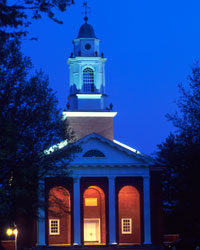 All members of the Montgomery County community are invited to attend Wabash College's 40th annual Christmas Festival of Music and Readings at 8 p.m. Wednesday, December 5, in the College Chapel. The festive program is an opportunity for college and community to come together in a traditional service of readings from the Old and New Testaments, along with a wide range of musical offerings.
The program, based on a traditional English service and initiated at Wabash by the late Eric Dean, features Advent and Christmas scriptures read by members of the Wabash faculty, staff, and student body. Christmas music will be sung by the congregation and performed by members of Wabash's musical ensembles.
The Christmas Festival of Music and Readings is jointly sponsored by the Music and Religion Departments, and is open to the public without charge. There will be a reception following the Festival in the Sparks Center.