Little Giants Advance to Elite Eight
by Howard W. Hewitt • November 24, 2007

Share:
CLEVELAND, Ohio – Wabash College has advanced to the Elite Eight of the NCAA Division III playoffs for the second time in the last six seasons. The 14th-ranked Little Giants (11-1) defeated Case Western 38-23 to advance to the regional finals Saturday at Wisconsin-Whitewater.
Wabash's defense set the tone early to bring the Spartans' perfect season to an end. The Little Giants held Case Western Reserve to minus-29 rushing yards. The Spartans, the No. 2 seed in the region, finished at 11-1. (View photo album No. 1, No. 2, and No. 3, from Saturday's game. Wabash Director of Alumni and Parents Affairs Tom Runge shot these photos, as well.)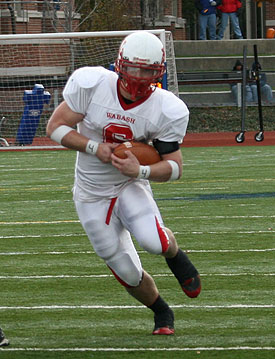 Evan Sobecki was instrumental in getting the Little Giants off on the right foot. On the Little Giants' first possession, Sobecki ran the ball eight times for 56 yards on the 68-yard drive. The sophomore back finished with a career-high 113 yards on 22 carries.
"We wanted to run to set up the passing game," Quarterback Matt Hudson said in the post-game press conference. "We went to our quick passing game. I think that made them a little more compacted toward the middle.
"We were content to take what Case would give us. That's what Coach Creighton has told me to do all year."
The opening drive was capped by Hudson's 3-yard touchdown pass to Mike Russell.
After a Spartan three-and-out, the Little Giants went on another long march to establish early dominance. Hudson found Brock Graham for a 10-yard score to cap a 13-play, 72-yard drive that took more than six minutes off the clock.
The Little Giants seemingly put a stranglehold on the contest when Hudson found Andrew Rode with another 10-yard scoring pass making it 21-0 with just 1:53 remaining in the half.
But CW's Jeff Mayer got behind the Little Giant secondary to haul in a 45-yard scoring pass from Dan Whalen to end the half to cut the margin, 21-7.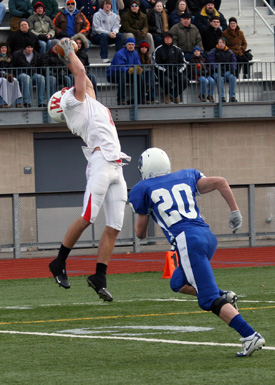 Wabash owned the first half statistically. The Little Giants outgained Case 229 yards to 47, made 21 first downs to only seven for the Spartans, and held a 12:30 minute edge in time of possession.

The rest of the game's fireworks were limited to the last quarter. The quarter was sandwiched by Bart Banach touchdown catches. Banach caught a 14-yarder to open the final period scoring to give Wabash a 28-10 lead. Whalen took one in from three yards out before Drew Oehler added a Wabash field goal, 31-16.

Whalen, scrambling most downs against an unrelenting Wabash rush, hit Ryan Kolesar for a 17-yard score to get Case as close it as it would get, 31-23, bringing the Spartan fans alive.

"They're a special team," Creighton said. "I don't give out quarterback compliments very often, but number five (Whalen) is really, really good."

On the following possession, Banach caught a short pass at the Wabash 48 and cut across field taking the ball 68 yards to secure the win and the final score 38-23.

The Wabash defense posted five sacks and 13 tackles for losses totaling 54 yards. Matt Kraft made nine tackles to pace the squad. Adi Pynenberg's eight stops put him at the top of the Wabash single-season tackles list with 158, passing Jim Kilbane's record of 151 set in 1983.

Hudson completed a career-best 33 passes for 308 yards and five touchdowns. He connected with seven different receivers, led by Graham's nine receptions for 48 yards. Banach finished with a career-high 108 receiving yards on six catches.

Saturday's regional final at Wisconsin-Whitewater kicks off at noon Central time, 1 p.m. Eastern.

Photos - (top right) Sophomore Evan Sobecki ran for a career-high 112 yards to set up the Wabash victory.

(Bottom left) - Senior wide out Mike Russell scored the game's first touchdown on this three-yard reception.




Results: Wabash 38, Case Western Reserve 23 Game Stats