Pynenberg Named Gagliardi Finalist
by Brent Harris • November 21, 2007

Share:
Wabash senior linebacker Adi Pynenberg is one of ten finalists for the 2007 Gagliardi Trophy. (Your vote can help Adi - see the voting link below.)
Pynenberg, the 2006 and 2007 North Coast Athletic Conference Defensive Player of the Year, is also the first three-time All-American football player in Wabash College history. He broke the school's career records for total tackles, unassisted and assisted tackles, and tackles for losses. He is two tackles away from setting the single-season record for tackles and is 2-1/2 sacks away from breaking the all-time Wabash mark.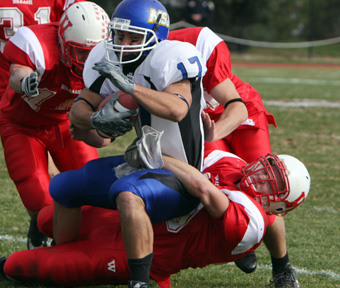 A four-year starter, Pynenberg has led the Little Giant defense in tackles every season. He has 150 tackles, 23 tackles for losses 104 yards, seven sacks for 51 yards, three interceptions, two forced fumbles, and one fumble recovery through 11 games this year. He's made 433 tackles throughout his four-year career with 70 tackles for losses of 301 yards. Pynenberg has 23-1/2 career sacks and nine interceptions in 43 career games.
The Montgomery, Illinois, native has also been a steadfast contributor to the Montgomery County community. A regular volunteer at the Montgomery County Boys and Girls Club, Pynenberg helped develop a fundraising effort for the local club as part of summer business immersion program. He has also served as a volunteer reader at local elementary schools and has participated in the annual Wabash College Football Youth Clinic and in the Punt, Pass, and Kick regional competition held at the College each year. Pynenberg has also been active in community service as a member of the Sphinx Club at the College.
Pynenberg's community service reached global levels in 2006 as part of a 10-day trip to Panama. He and several of his Wabash teammates spent three days in the Panamanian jungle villages clearing fields and assisting the villagers in their day-to-day work.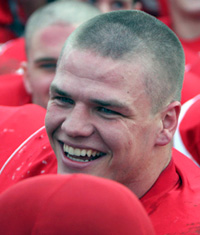 A psychology major with a 3.58 GPA, Pynenberg is a two-time ESPN The Magazine Academic All-District V Second Team selection.
Joining Pynenberg as finalists for the 2007 Gagliardi Award are:
Justin Beaver, running back from the University of Wisconsin-Whitewater
Derek Blanchard, offensive guard from Mount Union
Jason Boltus, quarterback from Hartwick
Tom Brew, linebacker from Case Western Reserve
Eric Dube, linebacker from Dickinson
Paul Keeley, quarterback from Alfred
Alex Kofoed, quarterback from St. John's
Drew Smith, wide receiver from Hampden-Sydney
P.J. Thiesen, wide receiver from St. Thomas
The Gagliardi Trophy is named for Saint John's University head football coach John Gagliardi, the winningest coach in college football history with 453 victories in 59 seasons. The award, presented to the outstanding football player in NCAA Division III, honors excellence in athletics, academics, and community service. The award program is sponsored by Jostens, Inc. and is conducted by the J-Club of Saint John's University in Collegeville, Minnesota. The winner of the 2007 award will be announced on Thursday, December 13 in Salem, Virginia during the week of the Division III national championship game.
This year fans can help select the Gagliardi Trophy winner. Fan votes will be combined into one ballot and added to the votes of the 30 members of the selection committee to select the winner. Fans can vote at D3Football.com or at USAFootballNews.com. 
For more information regarding the Gagliardi Trophy, go to http://www.gojohnnies.com/gagliardi%5Ftrophy/