Case Western's Offense, Defense Similar to Wabash
by Jim Amidon • November 19, 2007

Share:
It's been 58 years since Wabash last met Case Western Reserve University on the football field, so you can't exactly call the two teams rivals. In fact, the Spartans and Little Giants have met only twice, in 1948 and 1949, splitting the two games.
But there are some striking parallels between Wabash and Case Western. Both teams have high-powered, high-scoring offenses and solid, play-making defenses. The schedules are similar, too. Wabash and Case Western each defeated NCAC members Oberlin, Denison, Wooster, and Ohio Wesleyan.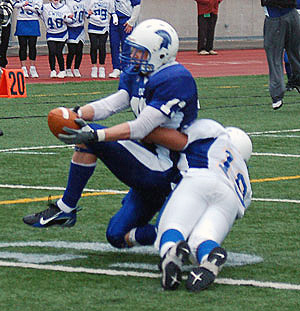 Both teams feature talented sophomore quarterbacks who have deep stables of speedy receivers as targets, and both are efficient passers who make very few mistakes.
The Spartans' Dan Whalen (6-1, 185) has completed 61 percent of his passes for 2,087 yards and 21 touchdowns and has been intercepted only five times in 283 attempts. Whalen is also an elusive runner, rushing for 346 yards and four touchdowns.
Whalen's favorite target is sophomore Tim Cowdrick, a 5-11, 180-pound speedster who has caught 59 passes for 850 yards and four touchdowns. Shaun Nicely, a 5-11, 190-pounder is just as effective. The freshman has pulled in 40 receptions for 583 yards and eight touchdowns, including a school record 97-yarder in last week's playoff win.
Sophomore Ryan Kolesar (6-2, 170) uses his height to his advantage and has averaged 14.2 yards on his 33 catches with five touchdowns. Freshman Brian Webster (5-9, 170) is a tough short yardage receiver with 23 catches and three touchdowns.
The Spartans balance their passing game with several proven rushers in the backfield. Eight men have carried at least 20 times this season. Hard-running sophomore Corey Checkan (5-8, 205) leads the team with 481 yards and 11 touchdowns; he averages 4.2 yards per carry and 44 yards per game. Freshman Billy Deitmen (5-10, 180) averages 4.4 yards per carry and has scored three touchdowns on 75 attempts. And Greg Meyer (5-10, 180) has rushed for 230 yards and three scores.
Senior Brendan Jones has a fullback's body (5-11, 200), but has good speed and averages 4.1 yards per carry.
A huge and experienced offensive line has done a good job of making holes and protecting Whalen. Seniors Brandon Jeffries (6-3, 310) and Tom Zagorski (6-1, 300), along with juniors Chris Center (6-3, 245) and Ryan Breon (6-3, 270) lead the way up front.
Like Wabash, the Spartans like to get off to a fast start. Through 11 games, Case Western has outscored its opponents 213-63 in the first half of games.
As good as Case Western's offense is, it's the defense that sets the tone. The Spartans allow just 289 yards and 14 points per game, and have forced 32 turnovers (18 interceptions, 14 lost fumbles).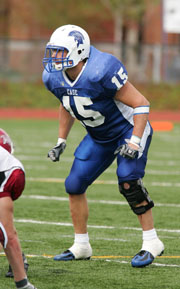 Like Wabash's All-American linebacker Adi Pynenberg, Case boasts a linebacker who can dominate a game. Senior Tom Brew (6-2, 240) leads the team with 100 tackles, 11.5 of which have come behind the line. He's also intercepted a pass and recovered a fumble.
Fellow linebacker Jeff Brown (5-10, 190), a sophomore, has even more impressive numbers: 85 tackles, 11.5 tackles for loss, five sacks, three interceptions, and three fumble recoveries. But it was senior Mike Tuertscher (6-0, 200) who led the team with eight tackles and an interception in last week's win over Widener.
For the second straight week in the playoffs, Wabash's quarterback and receivers will face a talented defensive secondary.
Junior Luiz Goncalves (5-11, 185) is the team's top defensive back with five interceptions, five pass breakups, and 57 tackles. Sophomore Bobby Bott has 60 tackles from his defensive back position and has broken up a team-high 10 passes.
Down linemen Brian Calderone (6-2, 225) and Gian Genovesi (6-2, 230) can stop the run and get pressure on the quarterback with 75 and 45 tackles, respectively. Calderone has a team-high 12 tackles for loss and six sacks, while Genovesi boasts eight sacks and nine tackles for loss.
Case Western has had to scrap to make it into the Division III playoffs and advance to the second round. The Spartans won at Chicago, before coming home for a 35-27 nail-biter over conference rival Washington University of St. Louis. They closed the season with a 20-17 home field win over Ohio Wesleyan.
As the number-two seed in the playoff bracket, Case Western hosted Widener in last week's first round. The Spartans trailed 20-15 with 1:27 remaining when Whalen led the team on a 14-play, 73-yard drive to win the game. Whalen hit Jeff Mayer for the game-winning touchdown pass. The talented quarterback converted on three fourth down plays on the drive.
In photos above, Case receiver Jeff Mayer reaches for the end zone with two seconds on the clock, scoring the game-winning touchdown. Photo by Matt Florjancic, D3sports.com
Lower pic: Linebacker Tom Brew