Little Giant Basketball to Hold Food Drive
by Kim Johnson • November 14, 2007

Share:
This weekend when the Little Giant Basketball Team tips off its season it will also tip off the Holiday Season with giving and good cheer.
Friday and Saturday, Wabash will host the Tipoff Classic on Chadwick Court in the Allen Athletics Center. Coach Mac Petty and the Little Giant Basketball Team are encouraging all those in attendance to bring non-perishable food items and household goods to the games for the local FISH Food Pantry.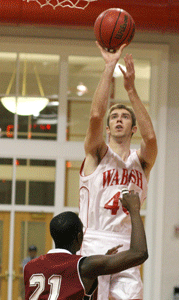 "We held a food drive a few years ago and just felt it was time for us to do something again," Petty said. "It doesn't cost anything to get into the game and this is an easy way for us and our fans to help others."
There will be collection sights right outside of Chadwick Court in the Allen Center both Friday evening and Saturday. "With all of the events on campus this weekend, we hope football and swimming fans will participate by bringing canned goods and other non-perishables too," Petty said.
The Little Giant basketball team will deliver all of the items collected during the weekend to First United Methodist Church for the FISH Pantry. All donations will stay in Montgomery County.
The Tipoff Classic begins with Humber College (12-2-1) taking on Indiana Wesleyan (3-3) at 6 p.m. The Little Giants will meet Kentucky Christian (4-2) at approximately 8 p.m. On Saturday, Humber will play Kentucky Christian at 1 p.m. and Wabash will take on Indiana Wesleyan at 3 p.m.
Other athletic events on the Wabash College campus this weekend include the first round NCAA Division III football playoff game with Mount St. Joseph at noon. Tickets are $8 for adults and $4 for students and are available now at the Wabash College Bookstore or at the gate on game day.
In addition, the swimming and diving team will host eight other teams at the Wabash Invitational. Events begin Friday night at 6 p.m. and continue on Saturday morning at 10:30 a.m. The Wabash Invitational is free of charge.
Come out and support the Little Giants in a great weekend of athletics and give back to the local community at the same time!