Flea Market Dealers Key to Farnsley '83 Research
by Howard Hewitt • November 14, 2007

Share:
In sharing his research interviewing flea market dealers, alumnus Art Farnsley '83 said he's discovered much about himself during the 2007 Eric Dean Lecture in Religion.
Farnsley is the Executive Director of the Society for the Scientific Study of Religion. He holds a Ph.D. in the sociology of religion and has written books on welfare reform, Southern Baptist politics, and American religion.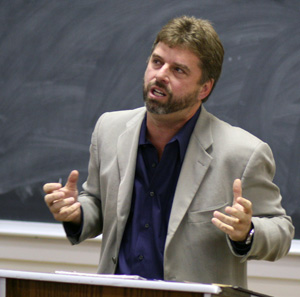 He has become a leading expert on faith-based initiatives, has a strong interest in folk art, and is a champion tomahawk thrower.
He spent the early part of his lecture talking about growing up and struggling with religious issues. He also struggled with what his major would be at Wabash. Classes with Ed McLean and Bill Placher gave him a direction. But as he earned his Ph.D. and became involved in research, he avoided the traditional teaching positions, though he has lectured at numerous universities.
He became interested in "the way institutions shape our lives."
"Folk art and flea market dealers are people who live their lives outside of institutions," he told a Center Hall classroom of students and faculty members. So he began interviewing flea market dealers about their religious beliefs. He found the great majority believed in God, but did not attend church. They "generally hold literal religious beliefs."
Farnsley said they don't vote, don't watch TV preachers, and overwhelmingly don't trust the government. Still, in other areas they are more ambivalent. They don't hold strong beliefs on abortion or gay rights. "I don't care what people do in private," he summarized as their beliefs.
"Because they are outside institutional contact, they don't have a stake in the issues," he offered. Still, the same groups of people strongly believe that God intervenes in people's lives. "They are common people who believe the right things – the things their mother and father and grandparents believed. Academics are just eggheads."
He characterized their beliefs that "God cares about the little people and intervenes on their behalf."
His research turned reflective as it unfolded. "I figured out this was about me," Farnsley said. "How did I lose this built-in, institutional belief in God? I believe in the power of community, but fear what they force people to believe — whether they're liberal or conservative."
He found he had more in common with the flea market dealers than he ever imagined. "They're skeptical that rich and powerful people are going to help them." The rich and powerful represent institutions. The dealers put more faith in God than government.
 
Farnsley finds conflict and comfort in analyzing the research. "I'm considerably more patriotic than I am religious," he suggested. But he too has doubts about government, but believes in institutions. He serves on several boards and his wife is a vice president at Cummins Engine.
He believes the research is helping him find himself. "I'm not the first guy to consider these things but maybe the first to use flea market dealers to find myself."