Little Giants Anxious to Tipoff Basketball Season
by Howard W. Hewitt • November 13, 2007

Share:
Wabash fans will get a first look at its basketball team Friday and Saturday in the Little Giant Tipoff Classic.
Mac Petty begins his 32nd season excited about the talent mix. The Tipoff Classic will feature teams from Indiana, Kentucky, and Canada. Action starts with a 6 p.m. Friday tipoff between Humber College (12-2-1) and Indiana Wesleyan (3-3). The Little Giants will face Kentucky Christian (4-2) at 8 p.m.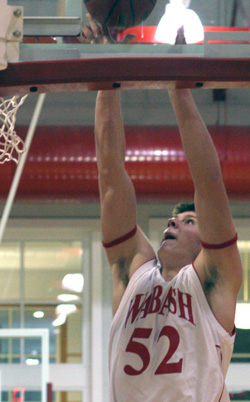 Saturday's matchups have Humber and Christian playing at 1 p.m. and Wabash and Wesleyan at 3 p.m.
The Little Giants are looking forward to a full season with Andy Zimmer and Gary Simkus in the lineup. Zimmer was Wabash's top scorer last season with nearly 20 a contest. Simkus averaged 12 points the first semester before studying abroad the second half of the year.

There's also plenty of excitement around talented newcomer Wesley Smith. Smith is a 6-3 freshman from Lawrence North High School in Indianapolis. He played along side Greg Oden and Mike Conley on their state championship teams, averaging 13 a contest. Smith will be a guard-forward swingman.
"My philosophy is a three-man has always been a critical part of the team," Petty said of his freshman recruit. "He has to do what the big men do and what the guards do. He's got to be multi talented, to be able to rebound, be able handle the basketball, and be able to handle the offense. He has to be able to shoot the outside shot but he also has to be able to score on the inside. I think Wesley has the ability to do this."
The Little Giants hope to defend Chadwick Court and get off to a good start. Last year Wabash had an 11-16 record after being 16-10 the year before. Petty is looking for something better than two years ago.
Petty said the Little Giants must shoot better and reduce turnovers.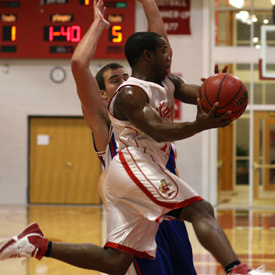 "We didn't do a good job of taking care of the basketball last year," Petty said. "Our shooting has to improve, we need to finish shots. Our free throw shooting has gotten better, but it's not where it needs to be. We should dominate the boards. We have the size and I think the quickness to control the boards.  The biggest controlling factor is the offensive rebounds. We can't allow teams to get more than 10 offensive rebounds and we have to get 12-plus every game."
Wabash may get the chance to test both its shooting and rebounding against Kentucky Christian. The Knights will be seven games into their season after a Tuesday night home game. They like to run up and down the floor and fire from behind the three-point arc.
Petty said the Little Giants will be more athletic this year and play at a faster tempo. It all starts with Zimmer.
"Andrew is going to be a marked player," Petty agreed. "What I think will help Andrew is the other players - Wesley Smith, Brian Maloney, Aaron Brock, - the other guys inside will make a lot of difference.
"I've adjusted the offense to enhance Andrew's overall ability. He can score inside, but I think fans saw a preview last year that he can score outside. He'll be fine because of his ambition and the notoriety he's received. "He wants it and I think he thrives on it."
In photos: Top right, Zimmer scores underneath. Mug shot: Freshman Wes Smith. Lower left, Earl Rooks passes off.