Wabash vs. Mt. St. Joseph in 1st Round
by Jim Amidon • November 11, 2007

Share:
The Wabash College football team will host a first-round NCAA Division III playoff game for the third time since 2002 when the Little Giants host the College of Mount St. Joseph on Saturday, November 17. Kickoff is set for 12:00 noon. Tickets are $8 for adults and $4 for students with an ID. Tickets may be purchased at the Wabash Bookstore from 10 a.m. to 3 p.m. today through Friday. For more information, contact the Bookstore at 765-361-6408 during business hours.
Wabash (9-1) captured the North Coast Athletic Conference Championship for the third straight year and earned the league's automatic berth in the 32-team playoff field. Wabash earned the third seed in the "Wisconsin-Whitewater bracket."
Mount St. Joseph, also 9-1, received an at-large bid for finishing second in the Heartland Collegiate Athletic Conference. The Lions' only loss was a 28-19 defeat at the hands of Franklin College (9-1). The Lions enter the contest as the sixth seed in the region and have registered two shutouts in their last three games.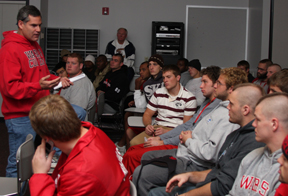 Wabash's 13-game winning streak came to an end on a last second field goal by DePauw in the 114th Monon Bell Classic for a 24-21 Tiger victory.
"We faced a lot of adversity early in the season and we had to come together as a family," said Coach Chris Creighton, who is 3-2 in his two previous trips to the playoffs. "We're going to do that again. We're going to regroup and come back together with a goal of going 1-0 this week."
Creighton led the Little Giants to the third round of the playoffs in 2002 with post-season wins over MacMurray (42-7) and Wittenberg (25-14) before Wabash fell to the eventual national champions, Mount Union, in the quarterfinals.
In 2005, after another prefect regular season, Creighton and quarterback Russ Harbaugh defeated Albion 38-20 in the opening round of the Division III tournament before Wabash lost a heartbreaker to Capital by a 14-11 score.
Wisconsin-Whitewater earned the region's top seed. The Warhawks have lost to Mount Union in the last two Division III championship games and enter the tournament with a 9-1 record, their only loss coming to Division II's Saint Cloud University. The Warhawks will square off against a tough 8-2 Capital University team in the opening round.
Case Western Reserve University won the University Athletic Association title and received a bid based on its 10-0 record. CWRU is the second seed in the region and will face Widener in the opening round.
Franklin College, which opened the year with a 35-33 loss to Wabash, has won nine straight and received the fourth seed. The Grizzlies will host fifth-seeded North Central University in the opening round.
Wisconsin-Whitewater Bracket
#7 Capital at #1 Whitewater
#5 North Central at #4 Franklin
#6 Mount St. Joseph at #3 Wabash
#8 Widener at #2 Case Western Reserve