DePauw Reclaims Bell on 47-yard Kick
by Howard Hewitt • November 10, 2007

Share:
DePauw sophomore place-kicker Jordan Havercamp hit his first-ever field goal Saturday and may never hit a bigger one. Havercamp's 47-yard kick returned the Monon Bell to DePauw and handed Wabash its first season loss. The Little Giants (9-1) prepare for the NCAA Division III playoffs November 17. They'll learn their opponent Sunday.
Wabash led 21-13 going into the final quarter but the Tigers put up 11 points to claim the win. Matt Hudson's fourth-down pass intended for Mike Russell was intercepted by Tiger Jevon Pruitt at the DePauw four-yard line. The Tigers took over with just 1:23 remaining in a game that looked as though it was headed to overtime.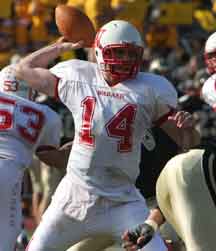 Instead, quarterback Spud Dick and running back Jeremiah Marks led the Tigers in nine plays to the Wabash 29. Then Havercamp's heroics ended Wabash's hopes of overtime and an unbeaten season.
The Tigers' win brings the all-time series to 53-52-9 with Wabash holding the one game advantage in the teams' 114th meeting. DePauw finished the year at 8-2. See game action photo albums here and here. See sideline color photos here. And this album features shots from the pre-game tailgating.
"On offense we had our chances but we only scored 21 points," Coach Chris Creighton said. "We had some third downs and some fourth downs and I probably didn't do a good job of making calls but it's a credit to their defense. It's a team effort and offensively we didn't keep the ball or put the game away when we had our chances. They're a really good team and we feel as though we're a really good team. They just got us today."
DePauw chewed up 185 yards on the ground to Wabash's 61 which helped the Tigers control time of possession. Tiger Senior Jeremiah Marks carried the ball 45 times for 181 yards. The Wabash defense was on the field most of the game. DePauw ran 82 offensive plays to Wabash's 52 and controlled time of possession 38 minutes to 22.
"Jeremiah Marks is a great football player," Creighton said. "He was playing his last college football game. We knew he was going to run like he was on fire. It's a credit to him and their offensive line. They wanted to run it and they did."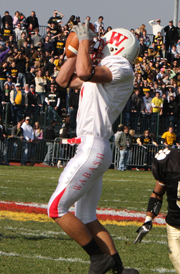 It was a classic battle. Wabash got on the board first in the second quarter when Matt Hudson strolled untouched around right end from one yard out after completing a 49-yard pass to Mike Russell. But the Tigers came right back to tie the game on Dick's 10-yard pass to Bryan Mulligan.
The Little Giants countered, driving 68 yards in seven plays with C.P. Porter taking it from two yards out. A Hudson to Russell 38-yard pass set up the score.
DePauw struck first in the second half on a Mark's 36-yard run after hauling in a short pass from Dick, but Haverkamp's kick failed, making it 14-13 Wabash. The Little Giants then got what would be their final score with time winding down in the third quarter. Taking over at their 20 with 2:51 to play in the quarter, the Little Giants moved 15 yards in three plays but then pulled off a beauty.
Hudson found Bart Banach deep over the middle; Banach broke free of a tackler and romped the final 30 yards into the end zone for a 21-13 lead.
The Tigers finally tied up the game late in the fourth quarter on a 15-play, 83-yard drive that took 7:19 off the clock. Dick hit Marks from eight yards out to pull DePauw within two. The Tigers completed the two-point conversion when Dick found Alex Koors for the two points to tie the game at 21-21.
Wabash then took the kick and moved 35 yards to the DePauw 35, but faced fourth-and-five. Hudson lofted a deep pass inside the five that was picked off by Pruitt to then set up the final drive and Havercamp's kick. Havercamp transferred from Denison. The winning kick was his first attempt of the season.
"This wasn't a whole lot of fun today and it wasn't the plan," Creighton said. "But we're going to be okay. I told the guys they have to keep their heads up and that's hard. It's easier to hang your heads. We've been through some adversity before and we've been able to respond."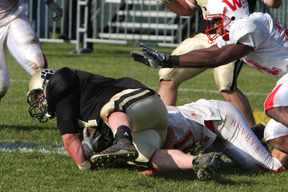 The game was filled with big plays and outstanding performances. Senior All-American linebacker Adi Pynenberg had 19 tackles, two for loss, and he had one of the more memorable plays of the season. Late in the first half DePauw drove the ball from its own 35 to Wabash's goal line. On a third and goal from the two, Dick completed a swing pass to 240-pound fullback Brett Claxton on the right flat that appeared open for the score. Pynenberg closed quickly and nailed the fullback right at the one in front of a screaming Wabash student section.

Dick's fourth down pass failed completing the Little Giant's goal line stand.

Thomas Bell and Rich Lehman each had 10 tackles with Chad Peterman and Matt Kraft collecting nine and eight, respectively. The Little Giants were not able to record a sack.

Seven Little Giant receivers caught passes led by Russell's eight catches for 151 yards. Hudson hit 21-of-33 passes for 322 yards and one interception yards. He also rushed for a touchdown.

DePauw finished with 485 yards of total offense to Wabash's 383. Another telling statistic was third and fourth down conversions. DePauw was 11-of-17 on third down to Wabash's 5-of-10. DePauw was good on 2-of-4 fourth down tries while Wabash failed on both its fourth down attempts.

Wabash, headed to the post-season for the third time under Coach Creighton, will learn its first round opponent Sunday at noon.

In photos: Top left, Hudson passes. Middle right, Russell hauls in a pass. Bottom left, Pynenberg's big hit on Claxton.




Results: DePauw 24, Wabash 21 Game Stats