Beyond Pink, Blue: Gender Differences in the Classroom
by Kim Johnson • November 6, 2007

Share:
Dr. Leonard Sax sees single-sex education as a way of breaking down the gender stereotypes.
"When we understand gender differences, we can break down the differences," the practicing family physician and psychologist told a Wabash College crowd Monday eager to hear his thoughts on same sex education. "If we don't understand the differences, we only reinforce those differences.
"The coeducational classroom can reinforce gender stereotypes," Sax said, noting that in his brief time at Wabash, he had found students breaking those stereotypes. "At this college I have been meeting men who are comfortable with scholars being athletes, and athletes being serious scholars."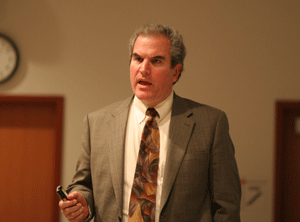 In his two books, Why Gender Matters: what parents and teachers need to know about the emerging science of sex differences and Boys Adrift: the five factors driving the growing epidemic of unmotivated boys and underachieving young men, Sax addresses the "hardwired" differences between males and females. Because of these differences, Sax is an internationally known proponent of single-sex educational institutions.
Sax began his presentation with the date January 14, 2005. He said while the events of the day or the people involved were not particularly important, it was that day that brought into "sharp focus some of the rather challenging issues that have to be addressed when engaged in dialogue on the topic of gender and education."
It was on this day Dr. Lawrence Summers, who was then the president of Harvard University referred to the lack of women in computer science, physics, and engineering as a result of an "innate difference in intrinsic ability."
While the remark quickly became a political debate, Sax argued politics has very little to do with it. "There are profound hardwired differences in males and females," he said. "However, these differences do not logically imply an order of rank. The fact that 'A' and 'B' are different does not mean that 'A' is better than 'B.' Apples and oranges are different. That does not mean that apples are better than oranges."
Sax reviewed a number of studies showing females out performing males academically. He attributes this to a social construct rather than a biological one. He discussed the attitude of intelligence in males being "uncool." Males are expected to be athletic and not academic playing into the notion of the "dumb jock."
Looking back through history he referred to the Latin phrase "Mens sana incorpore sano" or "a healthy mind in a healthy body." Men used to be expected to be athletic and academic. The two were not mutually exclusive.
He explained single-sex education as a way of breaking down the gender stereotypes. "When we understand gender differences, we can breakdown the differences," he said. "If we don't understand the differences we only reinforce the differences."
Using Wabash College as an example, he said "Uniquely at Wabash, athletes can be scholars and scholars can be athletes. It is generally accepted. That is not so at co-ed institutions."
Sax detailed one hardwired difference in males' and females' vision. He cited studies indicating there are biological differences in the way their retinas are built. The difference affects how they see and what stimulates vision. "How we see affects how we write and what we read," he said.
Sax addressed additional biological differences in his biology lecture titled "Sex Differences in Sensation and Perception: Hard Wired Sex Differences in Hearing, Vision, and Smell among Mammals."
By teaching males and females according to their biological differences, regardless of the gender of the teacher, he argues gender stereotypes can then be broken down. He sees the best way to achieve this is through single-sex educational institutions.
He wrapped up his comments by again reiterating, "difference doesn't imply an order of rank." He further concluded "the mere fact of a coeducational classroom in conjunction with the fact that the brains of girls and boys develop along different trajectories means that the coeducational classroom reinforces gender stereotypes, even with the most enlightened teachers."
To learn more about Dr. Sax's work visit:
http://www.whygendermatters.com
http://www.singlesexschools.org/home.php
http://www.boysadrift.com/home.php