Wabash Students Among Most Engaged
by Howard W. Hewitt • November 2, 2007

Share:
Wabash College students continue to rank their educational engagement much higher than similar institutions across the country. The National Survey of Student Engagement (NSSE) results show Wabash students are among the most engaged in the nation.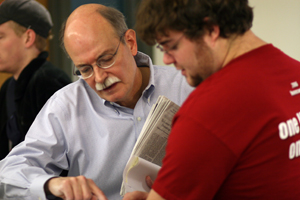 The 2007 NSSE findings show that taking part in certain activities during college boosts students' performance in many areas, such as thinking critically, solving real world problems, and working effectively with others. These "high impact" activities include learning communities, undergraduate research, study abroad, internships, and capstone projects.
"The learning environment at Wabash features close encounter between student and faculty through collaborative teaching and research; academic travel to professional meetings and abroad on intensive 7-10 day immersion trips; faculty/student dinners in homes and fraternity houses; and in the everyday out-of-class interactions made possible by a small residential community." Dean of the College Gary Phillips said. "From freshman tutorial through senior comprehensive exams Wabash students are expected to engage faculty and faculty students in ways that fuel a learning environment where liberal arts learning has a very human face."
The 2007 report is based on information from more than 310,000 randomly selected first-year and senior students at 610 four-year colleges and universities in the U.S. and Canada.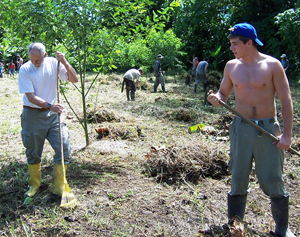 Now in its eighth year, the survey findings annually provide comparative standards for determining how effectively colleges are contributing to learning. Five key areas of educational performance are measured in a survey of more than 40 questions. Those five areas are: 1) level of academic challenge, 2) active and collaborative learning, 2) student-faculty interaction, 4) enriching educational experiences, and 5) supportive campus environment.
This year's survey is sponsored by The Carnegie Foundation for the Advancement of Teaching. For the first time NSSE is partnering with USA Today to further educate the public about the link between student engagement and a high quality undergraduate experience. Read the Nov. 5 USA Today story here.
Not only does Wabash score well against peer and national averages, but the gap is even higher when delving into individual questions presented to first-year students and seniors.
A sample of those results show significant separation in scores. First year students were asked if they had written four or more papers or reports of 5-19 pages with 67 percent responding they had such assignments. Nationally, only 32 percent were required to do that many while 41 percent students at similar institutions did that much writing.
Ninety percent of Wabash seniors had completed foreign language course work compared to 41 percent nationwide and 43 percent at peer institutions.
Similar gaps existed on questions answered by first-year students on number of books read, working with classmates, volunteer work, and number of hours in co-curricular activities. Wabash seniors had huge gaps on other institutions on questions about time with faculty outside the classroom, student discussion, a culminating senior experience, and co-curricular activities.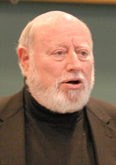 "NSSE is an institution's most trustworthy lens for seeing deeply into the quality of students' experiences because its results can translate directly into plans for action and reform and transformation strategies," said Lee S. Shulman, president of the Carnegie Foundation for the Advancement of Teaching. Shulman also serves on the Wabash College Center of Inquiry in the Liberal Arts Advisory Board.
In photos: Above right, Professor of Biology David Polley works closely with a student in a biology lab. At center left, Professor of Art Doug Calisch and Mitch Miles '09 work side by side on a community project during an immersion learning experience in Ecuador. At left, Lee Shulman.
Wabash's Scores in the Five Areas of Educational Performance
In the five areas, Wabash freshmen and seniors consistently scored higher than peer institutions with rankings above the 90th percentile of all respondents.
For comparative purposes, Wabash's scores are presented next to selected peer institutions and the national NSSE averages. Peer institutions include more than 40 colleges and universities. A few of those are: Anderson, Bradley, Butler, Capital, Case Western, DePauw, Earlham, Franklin, Hanover, Hiram, Hope, Marquette, Millikin, Monmouth, Ohio Wesleyan, Rose-Hulman, University of Indianapolis, Wheaton, Xavier.
Level of Academic Challenge: Preparing for class (studying, reading, writing, rehearsing, etc., related to an academic program.)
| | | |
| --- | --- | --- |
| | First-year Students | Seniors |
| Wabash | 64.5 | 69.0 |
| Peers | 55.0 | 57.8 |
| National Average | 51.7 | 55.6 |
Active and Collaborative Learning: Asked questions in class, made class presentation, worked with other students, tutored, participated in a community-based project.
| | | |
| --- | --- | --- |
| | First-year | Seniors |
| Wabash | 49.3 | 59.3 |
| Peers | 43.6 | 52.0 |
| National Average | 41.2 | 50.1 |
Student-Faculty Interaction: Discussed grade or assignments with instructor, discussed career plans with faculty or advisor, discussed ideas from readings or classes with faculty outside of class, received prompt feedback from faculty on academic performance, worked with faculty on a research project outside of course or program requirements.
| | | |
| --- | --- | --- |
| | First-year | Seniors |
| Wabash | 42.9 | 63.2 |
| Peers | 34.4 | 44.1 |
| National Average | 32.8 | 49.9 |
Enriching Educational Experience: Co-curricular activities, internship or field experience, community service or volunteer work, foreign language or study abroad, independent study, serious conversations with students of different religious beliefs, political opinions or personal values, use technology to discuss or complete an assignment.
| | | |
| --- | --- | --- |
| | First-year | Seniors |
| Wabash | 36.7 | 66.4 |
| Peers | 28.3 | 43.5 |
| National Average | 27.1 | 39.9 |
Supportive Campus Environment: Environment provides support student needs to succeed, environment provides support to thrive socially, cope with non-academic responsibilities, quality of relationship with students, faculty and administrative personnel and offices.
| | | |
| --- | --- | --- |
| | First-year | Seniors |
| Wabash | 70.1 | 70.7 |
| Peers | 63.5 | 60.0 |
| National Average | 59.8 | 56.9 |