Woehnker: A Lesson in Friendship
by Gary James and Patrick McAlister • November 1, 2007

Share:
EDITOR'S NOTE: Funeral Services for Patrick Woehnker were held Thursday morning in Kendallville. This story first appeared in the Nov. 1 issue of the Bachelor. Photo of Patrick with his squirrel courtesy of the brothers of Lambda Chi Alpha. The first cartoon by Bachelor cartoonist Joel Bustamante '11. The cartoon at the bottom of the page by long-time Bachelor cartoonist and Professor of History, Steve Morillo.
Patrick Woehnker was returning from class one late-September day when he found a small, infirm squirrel. The freshman's instincts were to nurture it and give it a name that would make people smile. He picked up the small creature, comfortable in his hands, and made it a box filled with dry cereal and a towel. He named it Bocephus.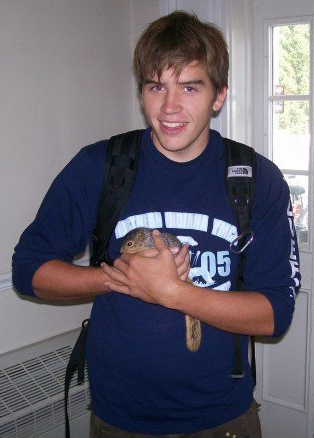 "There is a song by Kenny Chesney, who is a brother of Lambda Chi Alpha, called 'Keg in the Closet,'" recalled sophomore Brent Graham, Woehnker's fraternity big brother. "In the song [Chesney] talks about a dog on the front porch named Bocephus. Patrick named the squirrel after the dog in the song, and we had a squirrel on the front porch."
Patrick and Bocephus were inseparable. The furry creature could be seen cupped in his hands and even sitting on his shoulder like a parrot. Patrick's friends remember his love for the squirrel when recounting their fond memories of him.
In a tragic accident, Patrick Woehnker fell from the roof of Goodrich Hall Sunday, October 28. He was pronounced dead at the scene. The news of his accident stunned the campus and drew sympathy from Crawfordsville to his hometown of Kendallville.
His friends remember a quirky personality, goofy grin, and characteristic wave that evoked smiles and goodwill in return.
"Pat was the kind of kid [who] always had a smile," said Zak Ackerman, a sophomore at Tri-State University who taught Patrick how to throw the disc in high school. "No matter what, he could make you feel good. He was always upbeat, easy-going, and always had something good to say. He could always pick you up whenever you were down just by looking at his smiling face."
Jeremy Blazek '11 was a friend of Patrick's in high school and that friendship strengthened during their brief time together at Lambda Chi Alpha.
"[Patrick] always put his friends first; it didn't matter what mood he was in," Blazek said. "He was always open to new people, always making friends."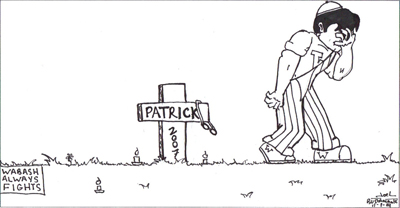 The fact that those who knew Patrick Woehnker continue to have such enduring and endearing impressions of him makes the news about his death all the more tragic.
He leaves behind a portrait and memories showing a young man engaged at his high school and in his community, determined to attend and do well at Wabash, and committed to his friends and teammates just as much as they were committed to him.
Patrick Michael Woehnker, Jr. was born and raised in Kendallville, Indiana, approximately 30 miles NW of Fort Wayne. He enjoyed playing video games, listening to music, and playing his guitar. Patrick attended Kendallville Middle School and graduated in May 2007 from East Noble High School.
Principal Ann Linson did not know Patrick very well, but she described him as a very good student who was well-liked and always had a smile.
According to athletic officials at East Noble, Woehnker was active in sports and other leadership activities. He helped freshmen transition into their new high school environment as a Knight Mentor and served on the Athletic Leadership Council. He was also a lifeguard at the Kendallville Parks and Recreation Department and Cole Center Family YMCA, where he volunteered to teach others how to swim.
But no matter what he did, Patrick's personality left an impression.
"Patrick was someone who had a great sense of humor but was pretty quiet unless you got to know him," said high school Athletic Director Rebecca Freeman. "He was respected by fellow athletes, and they enjoyed being around him. He really cared for the people he was involved with here, and they in turn cared a lot for him."
Patrick competed on the high school swimming team for four years. He was voted Most Improved Swimmer during his freshman year; Most Valuable Player during his sophomore year; became Team Captain and received an Honorable Mention at the Conference meet during his junior year; and received an Honorable Mention and the Mental Attitude Award at the Conference meet during his senior year.
Coach Kassie Scheerer had always been struck by Patrick's determination.
"If he had a goal, he'd work to achieve it," said the former Boys Swimming Coach at East Noble High School. "He was a football player who became a swimmer. He was not the best to start with but really excelled once he got out there."
Coaches and professors at Wabash recognized Patrick's indomitable spirit as well.
Assistant Swimming Coach Kyle Dunaway experienced Patrick's determination first-hand. The prospective demonstrated an unwavering commitment to attend the college and to join the swimming and diving team.
"During the recruiting process, Patrick was not someone we were heavily recruiting," Dunaway recounted Tuesday at the memorial service held by the Lambda Chi Alpha brothers. "But when Patrick came to visit during one of the admissions visit days, there was something about him that caught our attention – something that would catch every coach's attention. Patrick had a sincere desire to attend Wabash College."
"Patrick made it very clear to us on that day that Wabash was his number-one choice. Wabash was where he wanted to be. He wanted to be a part of the tradition. He wanted to be a part of the camaraderie. He wanted to be a part of the swimming and diving program. Regardless of his talent level or his immediate level of impact on our team, no coach can turn away someone who wants to be a part of your program or your school as much as Patrick did."
Although professors encountered Patrick for only a few hours per week, they witnessed the humor and determination of the presumptive history major as well.
"My impression about him was that he was very thoughtful," said History Professor Richard Warner, who taught Patrick World History. "One of the big challenges in studying world history is being able to have empathy for other kinds of people. We have a lot of things in our head that hinder our attempts to do that, but he seemed in his writing to be pretty empathetic. He was on his way to being a great history student."
Woehnker's Faculty Advisor and Freshmen Tutorial Professor William Doemel said he could always tell when Patrick entered the classroom.
"He smiled as he walked across," Doemel said. "At first he was a bit shy. He was quiet in the classroom. We were reading a book by Chuck Palahniuk. Patrick arrived that day with a yellow pad. He had read the book carefully, and suddenly he came alive in the discussion. From that point on he really became an increasing part of the class. He became more confident. The class meant something to him."
Research Fellow Kathy Wise is one of four who team-taught the Patrick's tutorial class, Leading Lives of Importance. She observed his growth as well.
"It was just nice to see because to me it said he's not just reading this, he's thinking about it before he comes to class, which you always hope student will do," Wise said.
One unmistakable thing about Patrick was the inestimable value he assigned to his friendships and the affection his friends possessed in return, specifically from his fraternity brothers, teammates, and high school classmates. They all have fond memories and have some difficulty getting accustomed to the idea of not seeing him.
"I met Patrick during Honor Scholar weekend," said Brent Graham '09. "Basically, he sat in a chair most of the night until I went up and talked to him. After that, he just talked non-stop. I have my brothers who are all very close to me because we've had a lot of the same experiences and I have the swim team, who are equally as connected and equally as strong because we spend so much time together. We spend two hours in the morning, two hours at night, and Saturdays traveling to meets. During the season, you are around each other all the time. It is a very tight group. Patrick had already made some good friends on the swim team and in the house. It definitely impacted them equally."
Jim Leuck '09 swam in the lane next to Patrick, and Kyle O'Keefe '08 swam in the same lane. They are still adjusting to his absence.
"Every time I get out of the pool, I look around expecting to see him stretching," O'Keefe said. "It's so unreal. He always tried to convince me to get in the lane first. And somehow, I always got in before him."
The news of Patrick's accident uniquely affected some of his high school classmates because, for some of them, he helped to shape part of their identity.
"Just being around the guy was uplifting; his good spirit was contagious," recalled Bryan Foster, a freshman at Purdue who graduated from East Noble with Patrick. "It was never forced, either, and I think that was important. I always strive to be myself, and it was never easier than when I was with him. He was just Patrick, and I was just Bryan. And now he is gone, and I will never be the same."
When accidents like Patrick's occur on college campuses, Administrative officials do everything they can to comfort the community.
"The college's most basic response is that we are deeply saddened he is gone," said Dean of Students Dr. Tom Bambrey '68. "He was here for eight weeks, a member of the Class of 2011. It is our understanding that even in that time and before that, his mother expressed how much he loved Wabash – this was the only place he applied to come to school. It's a terrible tragedy in any number of ways. Any time a member of our community is lost we all feel loss. Our chief response has been sympathy to the family, trying to help those students [who] are close to him to deal with his death. On a more personal level, I am deeply saddened because every student here I have a connection with. To lose him is just tragic."
Patrick's' fraternity members and family have received an outpouring of sympathy and support. But for those who knew Patrick personally and were familiar with seeing him on a regular basis, it is unlikely that any words would be more comforting than his own.
Dr. Cheryl Hughes found a quote from the conclusion of Patrick's last philosophy essay on ideal friendship:
"Don't let someone else tell you what a good friend is because only you know what is best for yourself. If someone makes you happy, continue surrounding yourself with them. If they only make you sad, it isn't worth being around them. Find someone who understands you for who you really are, and you will appreciate [more] everything life has to offer."