Iranian Reviews American Relations Since 1979
by Patrick McAlister '10 • October 26, 2007

Share:
One of the most contentious debates echoing across America from small liberal arts colleges to the United States Senate is how to deal with Iran. From the Iran Hostage Crisis of 1979 to President George Bush's famous "Axis of evil" declaration in 2002, Iran has consistently been at the forefront of American foreign policy.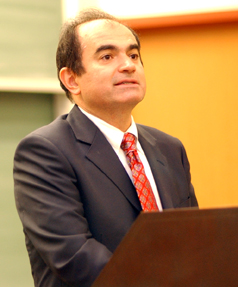 Kamran Beigi, former communications director for the former Crown Prince of Iran, delivered a talk Thursday analyzing the evolution of Iranian-American relations from the coup in 1979 that sent the Shah of Iran into exile to the present day policies of President Mahmoud Ahmadinejad. The talk, which took place in Hays Hall, was sponsored by the Wabash Conservative Union.
Wabash Conservative Union President Brandon Stewart '08 met. Beigi while he was interning in Washington this summer and invited him to come and speak on campus.
In his talk, Beigi argued the current regime in Iran is caught in a vacuum – no longer adhering to the traditional political structure yet not embracing western philosophy. That vacuum allows for Fundamentalism to develop.
The problem of the fundamentalist regime of Iran is only exacerbated by the potential for nuclear weapons. That is, according to Mr. Beigi, one of the most terrifying prospects for the world.
"The threat from Iran is very serious," he said. "If they get the bomb, they will use it."
Beigi said the only way to overcome the void filling fundamentalism rogue state, a breeding ground for terrorists, is through democratization of Iran. He believes the American ideals of freedom and democracy would resonate with the people of Iran.
A question and answer session followed the lecture. Student reaction to the talk was mixed.
Matt Vest '08 appreciated hearing a different perspective on foreign policy.
"This particular belief isn't represented anywhere," Vest said, "it's not in the news, it's not really represented in the faculty of Wabash. It's interesting to get a first hand experience of someone who has a detailed understanding of Iran, its traditions and possible solutions to the problem."
Other students like Mr. Drew Howk '08, couldn't believe what he was hearing.
"I felt like I traveled in time to about four or five years ago," Howk said. "I am listening to an expatriate from an Arabic country telling me that my government should become militarily involved in the overthrow of his country's government. I find it interesting that we have a former monarchist, a former supporter of the Shah's establishment committed to democratization.

"I think it was important to hear the perspective because the stuff that got us into Iraq – the mentality, the lack of questioning, and the lack of foresight – are still very real," he added. "I heard the words 'World War III' – I thought I was listening to President Bush for a second. It's worthwhile to hear that because then we know it's out there and then we can hopefully prevent it."

Stewart noted many conservative speakers on Islam have decidedly negative views on the aforementioned religion. This was not something that the Conservative Union wanted to promote.

"There are a lot of events and speakers," Stewart said, "especially like a Robert Spencer who talks about Jihad Watch and promotes very much this active idea that to follow Islam you have to hate America, so that normal everyday Muslims are not following their faith correctly. Mr. Beigi and I talked a great deal about that this summer and he obviously repudiated that notion."
The next speaker sponsored by the Wabash Conservative Union, will be Ward Connerly, founder of the American Civil Rights Institute on November 15th. Connerly will be discussing Affirmative Action.
Photos by Elijah Sanders '10